5 Tips for Going Green at Trade Shows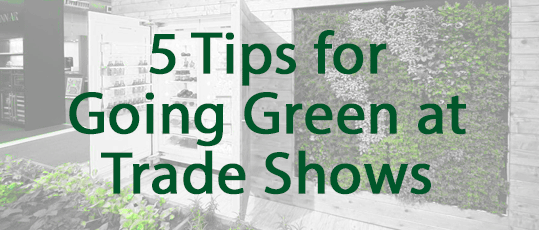 5 Tips for Going Green at Trade Shows
As conversations center around China's red alert on air pollution this week, it has people talking about the environment and how to go green. The trade show industry is no different. Along with many industries, this industry is considered unsustainable because it generates about 600,000 tons of waste every year. Trade shows are notorious for creating waste with pamphlets, flyers, and brochures, all while using an enormous amount of energy at each event. With thousands of trade shows and events each year, it's important that industry professionals start talking about sustainable practices we can adopt.
5 Tips for Going Green at Trade Shows
Below are five tips that trade show exhibitors can adopt to be more environmentally conscientious.
1. Design Your Booth with A Greater Purpose
When designing booths companies should take sustainability into account. Using green materials that are recycled or can be reused may cost more up-front, but in the long run will save your company money and help the environment.
If your brand can't afford a green trade show booth, green materials and designs are a great alternative. For instance, consider reducing the amount of energy your booth uses by removing light and other accessories that are unnecessary to your trade show booth. Companies may also choose to create simpler trade show booth designs that require less set up and shipping space. This can save energy, resources, and create a clean, modern looking space.
2. Hand Out Reusable Promotional Giveaways
An easy way to show consumers that your company values environmentally-friendly practices is by hiring promotional models to hand out promotional giveaways that are environmentally friendly but still remind attendees of your brand name! Some ideas for reusable giveaways are travel mugs, reusable shopping bags, water bottles, canvas bags, and recycled paper notepads. You can also consider purchasing promotional items that are made out of recycled materials.
Another way to cut back on promotional giveaway waste is by not having any! Instead of handing them out to attendees, consider using promo codes of digital coupons. Not only will your brand cut back on waste, but you'll also encourage more attendees to check out your website and redeem their coupons on your products and/or services.
3. Go Digital
Many brands continue to utilize pamphlets and other paper goods at their shows to relay information to attendees. Attendees are bombarded with these paper products, and many of the information ends up in the garbage rather than on the consumer's buying radar. A way to eliminate the waste of paper is to go digital. Use mobile apps or event software to provide digital content to attendees instead of handing out paper pamphlets. You can event offer to send them information directly (via email for example), so it is harder to ignore and better for the planet. Plus, it's a great way to get contact information without seeming pushy.
4. Green Printing
If printing is something that your company simply can not avoid, then try to use recycled paper or printing companies that practice sustainable printing. Greener Printer is one company that uses sustainable practices and materials in their printing products. That way if the use of paper products can not be avoided, then your company can continue to practice sustainability. Make sure to highlight that your products are Eco-friendly, because your brand should give everyone a great impression of what your company values!
5. Travel at Light-Speed
To reduce emissions and your carbon footprint, make sure you consider how your trade show supplies are shipped. Consider using local supplies in an effort to avoid your trade show supplies traveling across the entire United States. When long distance shipping is required, choose ground delivery verses air because it uses less fuel and releases less emissions into the environment. Finally, consider hiring promotional models that are local to the trade show and can carpool with a friend!
Sustainability at trade shows will give attendees a positive first impression of your brand, it will promote a healthier future for the planet, and it can actually cut costs for your company. So why not consider 'going green' at your next exhibition: you have nothing to lose and everything to gain!