8 Types of Tradeshow Models to Boost Your Presence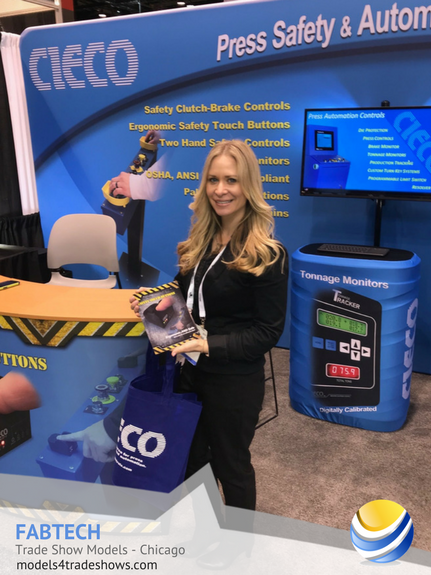 Here are 8 Types of Models to Boost Your Presence at Your Next Tradeshow
A "trade show model" is a broad description that blankets the multiple uses and benefits of bringing a professional brand ambassador to staff your next tradeshow. Just like every business is unique, so too are the capabilities and advantages of hiring quality models—for car shows, tradeshows, conventions, and everything else in between. The following examples highlight some of the different types of tradeshow models that can be used to draw in traffic and expand networking opportunities with event attendees.
Convention Models
Exhibitors that attend industry conventions hire convention models to help promote their products and services and make their booth stand out. And while convention marketing takes some practice, an experienced convention model will easily attract your target audience and develop a buzz around your booth and product.
Beverage Models
Are you a beer distributor looking to promote your brand in a new, fun, and entertaining way? Do you have a new product being launched and need help bringing it to market? Professional beverage models are able to successfully communicate with your target audience and create an exciting atmosphere for them to enjoy your product in.
Car Show Models
Hiring car show models to present your automotive products will give your company an advantage over other exhibitors. Car show models know how to attract attendees to your booth, and how to communicate with them about everything exciting in your business and the automotive industry.
Spokes Models
Spokes models have years of experience in the promotional modeling industry and are most commonly known for their ability to present company information to a large audience effectively and professionally. Also known as EMCEEs, spokes models have a valuable set of skills that set them apart from standard trade show models. Spokes models have the ability to memorize and present a large amount of company material in front of a large audience without hesitation. Spokes models also have experience with using technology to enhance their presentations.
Mascot and Costume Models
Hiring costume models to act as a fun character or celebrity look-a-likes will encourage attendees to approach your booth, take pictures, and upload images onto their social media profiles. This is a win-win situation for your business because not only can sales staff interact with potential leads, branded photos of your company's trade show booth and product can also be shared with an even larger audience.
Product Demonstrators
At every trade show, attendees are bombarded by different products as they walk around the floor. This makes it difficult for exhibitors to gain the attraction of trade show attendees. Product demonstrations, giveaways, or product sampling can make your business stand out and leave a lasting impression on potential clients.
Bilingual and Multilingual Models
Interpreters and translators are ideal for international clients that are attending trade shows in the United States and want to save money by hiring translators local to the area. Translators are also ideal for exhibitors whose clients are international and may speak little or no English.
Street Teams and Guerilla Marketing Promotional Staff
Experiential marketing is a great way to not only reach a broader physical audience, but an online audience as well. One way to take advantage of street teams is taking photos of them during the promotion and sharing on social media. Another great way to take advantage of a promotional street team is by creating a fun video of your event. Don't let a tradeshow be the last day of your promotional marketing campaign—share it online for the world to see.
Whatever your business, industry, or product, hiring a multitalented model can help your brand get the recognition you deserve at your next event or trade show. Contact us to learn more.