Hiring Event Staff for Corporate Holiday Parties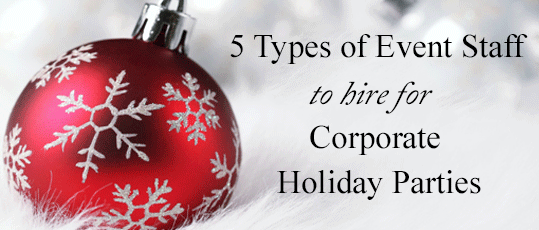 Hiring Event Staff for Corporate Holiday Parties
If your annual corporate holiday party is anything like ours then it's a fun-filled evening of laughter, delicious food, great company, and memories that last a lifetime. But, in order to keep team members coming back to the holiday party year after year, it's important to continually bring new and exciting aspects to the evening. One such way to do that is by hiring event staff to assist your team throughout the corporate holiday party. Not only will they bring excitement to the party, but they will also help to promote and encourage brand loyalty and company morale.
But, with some many different types of event staff available for hire, how do you know which event staff to hire for your corporate holiday party? To help your team, we've listed the 5 ideal types of event staff to hire for corporate holiday parties this year.
5 Types of Event Staff to Hire for Corporate Holiday Parties
1. Local Event Staff –
One of the first and most important rules of hiring event staff for corporate holiday parties is to hire local event staff. Not only are local event staff cost effective (because you don't have to pay additional money for food, hotel, or travel costs), but local event staff are familiar with the area and will be able to easily navigate to the location of your corporate party. Another favorable reason to hire local event staff is because they may even be familiar with your company and brand and excited to work your event – especially if you're a well-known business in your city. To find local event staff in your city, contact us.
2. Food Samplers –
Are you looking for a way to change the atmosphere of your corporate holiday party and bring a certain level of class to the event? Then, consider hiring event staff to walk around the event passing out food samplers to your employees. Food samplers are typically hired for trade shows or promotional events when exhibitors want attendees to try out their products; however, hiring food samplers for corporate events is a great way to make your employees feel special and create conversation.
3. Specialty Models –
Another type of event staff to consider hiring for your upcoming corporate holiday party are specialty models. Specialty models make up a wide range of event staff that have varying skill sets and experiences that can add life to any party. One example of a type of specialty model to consider hiring for your corporate holiday party are costume models. Hire costume models to dress up as your brand's mascot, wear holiday costumes, or wear a unique costume that matches the theme of your event. Specialty models act as a great conversation piece and add life to any corporate party.
4. Greeters & Hostesses –
Consider hiring hostesses to greet employees, answer questions, and direct them in the right direction at your corporate holiday party. Hiring greeters and hostesses is a great way to ensure that all of your employees have a great experience at your corporate party from the very beginning. Plus, hostess and greeters ensure that only those people invited to your corporate holiday party make it inside and that there is no confusion on where to go or on the evenings schedule.
5. Event Hostesses to Run Games –
Finally, another type of event staff to consider hiring for corporate holiday parties are hostesses and hosts to run promotional games. This works especially well if your company is a large brand and hundreds of employees are expected to attend the corporate holiday party. Promotional games are a great way to reach a large variety of employees and ensure that everyone is having a great time at the event. Plus, promotional games at corporate parties are a great way to boost company loyalty and morale – especially if your brand has extra money in the budget to giveaway gifts or prizes for those that participate in the promotional games.
Hiring event staff for your corporate holiday party is a great way to ensure that all employees have a great time at your event and build up company morale. Interested in learning more about how you can hire event staff for your corporate holiday party? Contact us to get started today!