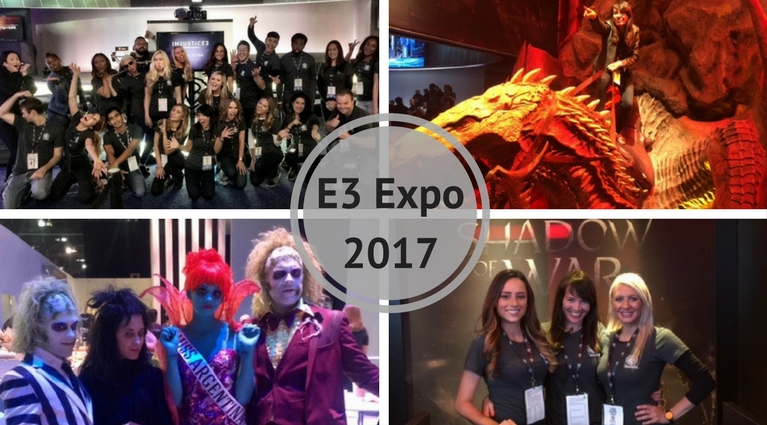 Vantage Models at the E3 Expo 17′
Every year Vantage Advertising provides staffing at the E3 Expo in Los Angeles to represent Warner Brothers Studios. Last year at the 2016 expo we staffed over 30 of our male and female promotional models, and this year was even better! The Electronic Entertainment Expo is a premier event for gaming fans with attendees from over 100 countries; leading computer and video game companies, industry analysts and the biggest fans of video games are just a few of the type of people who attend E3! However, it is much more than just a 'game playing' convention. The expo welcomes leaders from the multiple levels of the gaming industry such as software development, buyers and retailers, programmers, distributors, financial analysts, worldwide electronic and print media, and tons more!
Our promotional models understand this is a team expo and that they all need to work together in order to make Warner Brothers Studios stand out among all the other E3 companies. A few of their responsibilities include promoting the WB gaming chairs, passing out flyers, introducing new WB games, communicating seamlessly through a headset system and directing all key speakers to appropriate area.
What can you expect when hiring booth talent through Vantage Advertising? You can expect booth professionals that will be able to assist you in attracting attendees to your booth, answer general product questions and promote your brand. To hire L.A. promotional models for your next convention, trade show or expo, please visit www.models4tradeshows.com
E3 Expo 17′ Event Photos
Video from E3 Expo 17′