Promo Model Jobs: 3 Ways to Update Your Model Profile & Increase Bookings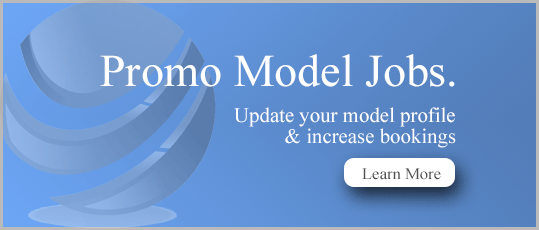 Promo Model Jobs: 3 Ways to Update Your Model Profile & Increase Bookings
Okay, it's time to talk about getting more promo model jobs. As we all know, the promotional modeling industry is very competitive. And, that's not just something event staffing companies tell you to get you off their back – it's actually true. Jump on Facebook and search for "Brand Ambassadors of" and you'll find hundreds of groups dedicated to promotional modeling jobs in different cities and thousands of models in each group.
So, the promotional modeling industry is competitive. You get it; so what? I'm supposed to be telling you how to update your promotional model profile and increase your modeling bookings. I know, I know. I'm getting there! However, let me be clear: The tips in this blog are specifically related to Vantage Advertising's promotional model profiles and how to increase promo model jobs with Vantage Advertising. To join our team, create a profile. If you want generic tips on how to get more bookings, check out this blog post: Why Am I Not Getting Hired as a Promotional Model. Okay, now that that's out of the way – let's get started.
3 Ways Updating Your Profile Can Increase Promo Model Jobs with Vantage Advertising
In order to increase your promo model jobs with Vantage Advertising, your model profile must be able to complete with your competition, so if your profile doesn't look like this Chicago model, then you've got some work to do. Let's begin.
1. Update Your Resume –
Is the resume section of your Vantage Advertising profile filled out? If it isn't completely filled out, then shame on you!! The resume section is your chance to shine and show off your expertise. Why wouldn't you fill it out as much as possible to show off your most recent and most impressive events? This is hands down one of the most frustrating things to discover when I take the time to look at a model's profile who emails saying "Margaret, I apply for so many events but I don't get booked. Help!" If you can't take the 5 minutes to fill out your resume, then why should I take the time to help you get more promo model bookings? Have you ever heard of a professional job where candidates can apply without a resume? No. So, why would promotional modeling be any different? I can almost guarantee that a profile without a resume won't get a second look from the client – and I don't blame them. Fill out your resume!
Not sure which events to include in your Vantage Advertising profile? I highly recommend including your most recent and most impressive events. The recent events show the client that you are actively working in the industry and the impressive events showcase your ability to work (and maybe even manage) large, unique events. Include events that you are proud of and that you can recall in detail. Then, if the client asks you specific questions about those events you can have intelligent and engaging conversations about them.
2. Update Your Photos –
When was the last time you looked at the photos on your Vantage model profile? Are they up-to-date? Professional? Do they showcase you working in a variety of trade show and event settings? Having accurate, up-to-date, high-quality photos is a must in the promotional modeling industry. Take the time to hand select 8-10 photos that accurately reflect your look and diverse work experience. But, beware of blurry photos or selfies – they can make you look unprofessional. Finally, be sure to have a professional smiling head shot that you can use as your main profile photo. Your main profile picture is what will entice clients to click through to your profile (where you can knock it out of the park with your newly up-to-date resume) so make sure it counts!
3. Update Your Videos –
Finally, another important aspect of your promotional modeling profile that will help to increase your promo model jobs is the additional of video reels. Whether it's a video of you performing a product demonstration, presenting a product, or speaking in front of a camera, video reels are great way for clients to get to know you on a personal level. Plus, having video reels is an easy and effective way to stand out from your competition. Video reels also help clients hear your voice and get to know your style of speaking which can help them to make a quick and easy decision about whether or not you have the right tone, style, and accent that they are looking for.
Video reels can be especially effective for promotional models that are bilingual or multilingual. Record yourself speaking fluently in each language and upload to your profile. Not only will this reassure clients that you are in fact fluent in the language you say you are, but it will help to save time throughout the booking process and get you hired sooner.
Promotional modeling is a competitive industry, but including these aspects in your promotional model profile is an easy and effective way to increase your promo model jobs with Vantage Advertising.