Hiring Promotional Models – 5 Signs Your Brand Should Hire a Model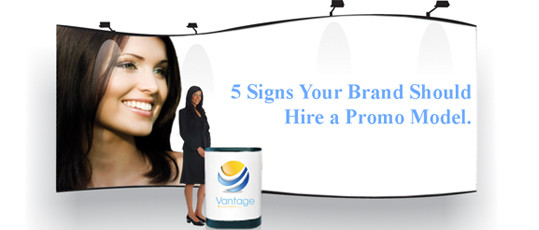 Hiring Promotional Models – 5 Signs Your Brand Should Hire a Model
As we reach the end of 2015 and turn the corner in 2016, it is time to start thinking about your trade show marketing strategy and how your brand will staff your trade show booth next year. Is your team interested in expanding your trade show reach and increasing trade show leads by bringing additional of staff members to the show? Then, chances are your brand will benefit from hiring promotional models.
Need more concrete proof about why your brand should to hire promotional models? Below we have listed five foolproof signs your brand needs to hire promotional models to increase leads and produce a positive ROI at your next trade show.
5 Signs It's Time to Hire Promotional Models
1. Your Trade Show Sales Team isn't Producing the ROI Needed to Better your Brand
Promotional models are a great resource for boosting trade show leads and attracting attention to your product and booth. These professional models have the personalities, physically attributes, knowledge, and know-how required to draw in your target audience!
Hiring promo models can save money too! There are expensive travel, lodging, and food costs associated with using your company sales team. By hiring promotional models you can reduce trade show expenses because they are local to the area and do not require travel, food, or lodging costs!
2. Your Brand Needs a Trained Professional to Lead Product Demonstrations and Trade Show Games
If your brand is incorporating product demonstrations and trade show games into your booth, but you don't want to use valuable trade show team members to host them, then hiring promotional models might be just the answer you're looking for. Promotional models have years of experience leading presentations and trade show games. Their experience and expertise makes them an excellent asset to your brand because with only minimal training about your brand, they will be able to inform your audience in a composed and professional manner.
Plus, most, if not all, models have conducted demonstrations or contests previously and are skilled at drawing in a crowd and building excitement about your brand and product.
3. You Want to Increase Your Leads and Sales by Trying Something New on the Trade Show Floor
In recent years, many companies have started using an increasing amount of signage and technology in their booths to attract more attendees. Stand out from your competition by hiring promotional models to draw in crowds! The person-to-person contact that consumers get when you hire promotional models will help to separate your brand from the competition.
4. You are Looking for Booth Staff Trained at Qualifying Attendees
Professional promotional models have worked a large variety of trade shows in the past and have a broad knowledge of how trade shows function and more importantly how to attract and qualify trade show leads for your brand. By hiring promotional models to attract and qualify trade show leads your brand will see an increase in trade show leads and sales at your upcoming shows.
5. You Want to get your Brand Noticed at Trade Shows
Some companies find it difficult to attract consumers to their booths at large trade shows because there are a multitude of similar companies for attendees to choose to interact with. But, by hiring promotional models your brand will be able to stand out from the crowd and get noticed by your most valued customers. Promotional models know how to inform your target market in a new and exciting way. They are able to engage in meaningful conversations with consumers and inform them about your product or brand.
Hire promotional models to create excitement about your products on the trade show floor, draw in attendees from your target market, and boost sales for your company! Promotional models are an affordable choice for any company that wants to produce a worthy ROI and build awareness about their brand.
Check out our diverse group of models in your area and find the perfect brand ambassadors for your company!