5 Tips for Marketing Your Brand During Holiday Promotions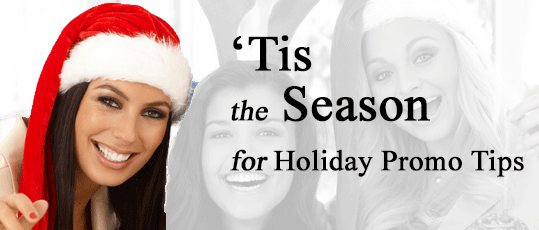 5 Tips for Marketing Your Brand During Holiday Promotions
With thousands of consumers researching brands and making purchases on a weekly or daily basis during the holidays, it's crucial that your brand gets noticed and stands out among the noise of your competitors.
But, in order to attract attention to your brand this holiday season, you'll need to create a unique marketing plan that inspires, excites, and entertains your customers. You'll need to DO SOMETHING that gets them interested and talking about your brand. Something that keeps them asking for more.
Ask yourself, what makes my brand stand out? Why am I passionate about my brand? Then, develop a marketing plan that showcases your brands unique characteristics and share those passions with your audience.
Tips for Promoting Your Brand During the Holidays
Be Conscious of Your Audience
Before deciding how to approach your marketing strategy, take a moment to consider who your target audience is and what you're trying to accomplish. Are you a health insurance company whose target audience is middle aged men and women? Or, are you a baseball store that is trying to attract the attention of children and their parents? No matter what you're promoting, be sure to focus your attention on your audience and what you're trying to accomplish.
Incorporate Social Media
Using social media is a great way to increase your national and global following. But, how? First, try incorporating social media into your holiday promotion by pairing it with a team of experienced promotional models. Hire promotional models to encourage consumers at your holiday promotions to follow your brand on social media. Then, use social media to market and advertise to consumers throughout the duration of the holiday season. Start by sharing exclusive deals, sales, and contests with your consumers, organize a social media contest, and share valuable blogs and content that your followers will find useful. By incorporating social media during your holiday promotions your team will be able to reach a larger and more diverse audience and in turn increase your leads and sales during the holiday season.
Perform a Publicity Stunt
Hiring event staff to perform a publicity stunt is great way to expose your brand to thousands of new and interested consumers. Organize your publicity stunt inside (or outside) of your shop, store, or in a public space and watch as the publicity stunt gains the attention of hundreds of interested consumers.
Some unique ideas for publicity stunts that have worked well for brands in the past include, but are not limited to: a flash mob, attempting to beat a world record, having a sense of humor about your brand, utilizing pop culture trends, organizing a charity campaign, or building a funny story line around your brand. No matter what the publicity stunt is, make sure that it's big enough or interesting enough to get noticed by the media.
WARNING: Without proper planning, a publicity stunt can reflect as a poor and tasteless attempt to advertise your brand. So, before executing your publicity stunt, take the necessary steps to properly organize, plan, practice, and ask permission to preform your stunt Continue Reading.
Hire Street Teams
Another easy way to promote your brand during the holiday season is to hire street teams to hand out promotional items and flyers about your company. By hiring a street team to promote your brand, your company will be able to reach a larger and more diverse audience, increase your brand awareness, and attract more attention to your brand.
STREET TEAM TIP: To ensure that your products are not thrown away, hand out items that your audience will find useful, such as bottle/can sleeves, pens, or flyers that have a promo code of a free coupon that consumers can use online or at your store. Make sure your marketing efforts are effective and profitable!
Plan for the Crowd
The holiday season is one of the biggest, if not the biggest, shopping season of the year, so while it seems obvious that your team be prepared for the large, diverse, and rowdy shopping crowd, it's still important to be once again reminded. Make sure that you and your team crunch the numbers and arrive fully prepared for each holiday promotion. Make sure that your team has the correct amount of promotional products and flyers to hand out and arrives with strong mental and physical stamina!
There you have it: 5 easy ways to market your brand during the 2015 holiday season. What other marketing tactics will your brand us to stand out this year?