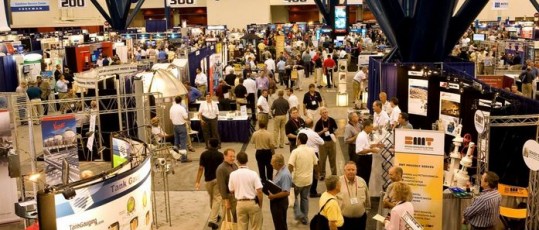 What is a Trade Fair?
A trade fair, or trade show is a promotional event for companies within a specific industry to help them showcase and demonstrate their latest products or services. Trade fairs can be open to the public, but are most often only available to industry professionals. Trade fairs are also known to feature unique events for exhibitors such as speeches or seminars which are led by industry leaders. Before a trade fair begins a location must be selected by the event organizers. Typically, trade fair organizers decide to have the trade show in a popular convention center in the hosting city.
To help you better understand what a trade fair is, we've outlined what exhibitors go through before, during and after a trade show. Then, we will briefly touch upon where the future of trade shows may be headed.
Inside the convention center, the trade fair area is divided into sections of space that exhibitors can rent out during the show. Most trade fair organizers provide backdrops, a power source for electronic equipment and a set of table and chairs for each booth section. However, these materials are not provided by all trade fair organizers.
Once the trade fair space is rented, exhibitors are free to furnish and create a customized trade show booth section of their choosing. Exhibitors spend hours before the show researching and purchasing trade show table throws, promotional merchandise, banners and signage that will make their booth stand out from their competitors.
Please note: It is important for exhibitors to be aware of the guidelines and rules laid out by the trade show organizers. Some trade fairs have particular rules about what is and is not allowed at an exhibitor's trade fair booth, so if you're thinking of attending a trade fair, be aware of any guidelines that you may need to follow.
During the trade fair, exhibitors interact and engage with attendees at the show. The main goal of most exhibitors ranges from creating brand awareness to generating leads and producing sales. These goals can be accomplished in variety of ways, but typically companies will hire trade show models, or booth girls to help distribute company material, scan badges, make sales pitches, and demonstrate company products.
After the trade show, exhibitors leave with dozens, it not hundreds (depending on the trade fair size) of leads they gained throughout the show. Exhibitors then return to the office and begin generating sales from the leads they were able to obtain at the trade show.
While trade fairs characteristically take place at a physical location, within recent years the virtual trade show has begun to increase in popularity, especially because of the importance of the internet. Virtual trade fairs are similar to trade shows in structure and format, but instead take place virtually, or online. Attendees that join virtual trade fairs still have the opportunity to tour trade fair booth space, interact and establish quality relationships with exhibitors. While virtual trade fairs have not yet replaced traditional trade shows, they are growing in popularity and attendees and exhibitors alike should begin preparing themselves for a rise in virtual trade shows.
So, there you have it. The basics of what a trade fair entails. Have something to add? Leave a comment below!