10 Tradeshow Exhibitor Tips for Success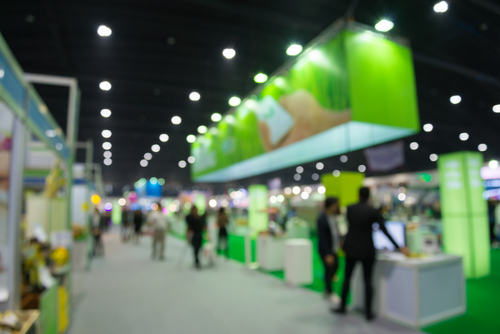 10 Tradeshow Exhibitor Tips for Success:
Getting the most bang for your buck at your next tradeshow
You (or the people you hire to represent your business) are blessed with the gift of gab, so exhibiting at a tradeshow should be a piece of cake, right? In short, the answer is no. It's not that simple.
We've put together 10 useful tips to make your tradeshow experience a worthwhile event:
1. Know Your Objective
"Trim the fat" applies to more than the cut of your favorite steak. Everything you do at a tradeshow should be efficient and support the business' sales and marketing objectives. You need to know what you're exhibiting, and perhaps even more importantly, why you're exhibiting.
2. Plan Your Budget
Budgeting is more than a buzzword—it's the foundation of financial preparedness. Drafting an itemized budget will help you see exactly where your expenses are going and helps you meticulously attend to every single detail of your exhibit.
3. Properly Staff Your Booth
As they say, how you win depends on who's in. Putting the right team in your booth will make all the difference when it comes to turning prospects into customers. The more friendly, professional, knowledgeable, engaging, and all-around go-getting, the better.
4. Make It Memorable and Exciting
Interactive activities, promotions, giveaways, or some form of entertainment are sure ways to attract attention and draw visitors into your booth. Plus, having a little fun will help your target market remember you long after the tradeshow.
5. Spread the Word in Advance
Once your trade show is booked, you'll want to invite as many contacts as you can. Making connections is a crucial step towards establishing business partnerships—so give your audience every detail they'll need to get to your exhibit. Your website and social media are great places to start advertising.
6. Speaking of Social
Social media can help you engage with a large audience by hopping on what's trending. Using event hashtags, creating fun content, interacting with posts, or teasing your audience with questions about your business can help draw visitors into your booth.
7. Know Your Audience
We already mentioned the importance of knowing why you're exhibiting at a tradeshow, now it's important to consider who you're exhibiting to. Is it suppliers, CEOs, entrepreneurs? Each audience will require a tailored strategy so you can appropriately appeal to their needs.
8. Use Technology
Another way to engage your audience is by integrating digital technology into your exhibit. Today, some form of digital communication is considered the norm. Without it, your booth could suffer from being too "old school." Demonstrating your product or business by using tablets, apps, or something even more creative will show prospects that you're up-to-date on today's modern world. It's a step up from handing out brochures.
9. Don't Misuse Your Own Technology
Yes, allowing guests to interact with tech is a good thing. You getting distracted with emails, texts, updating your friends with a picture of last night's dinner on Instagram, is not best practice. If you're behind the booth looking at your phone or computer, you're missing out on valuable opportunities to engage and follow up with attendees. Get up and get networking!
10. Follow Up Promptly
Once you've nailed the tradeshow exhibit and captured leads, it's time to follow up before being forgotten. After the show it's imperative that you quickly send out materials and put the best prospects in touch with your sales team. The faster you do this, the more you'll stand out.
Remember, it takes more than being a good talker to pull off a successful tradeshow experience. It takes strategic planning and close attention to detail to ensure a healthy return on your investment. You're shelling out a good chunk of time, money, and valuable company resourced for one reason—to capture leads and grow your business. Following the right advice can truly add value to your company. Best of luck!
Learn more about tradeshow ambassadors or staffing your tradeshow booth, contact Vantage Advertising. Vantage Advertising is an elite staffing agency that employs a talented network of event staff and brand ambassadors across the country. No matter how big or small your business, we can help you position your company for success.