Booth Babes: More than just a pretty face.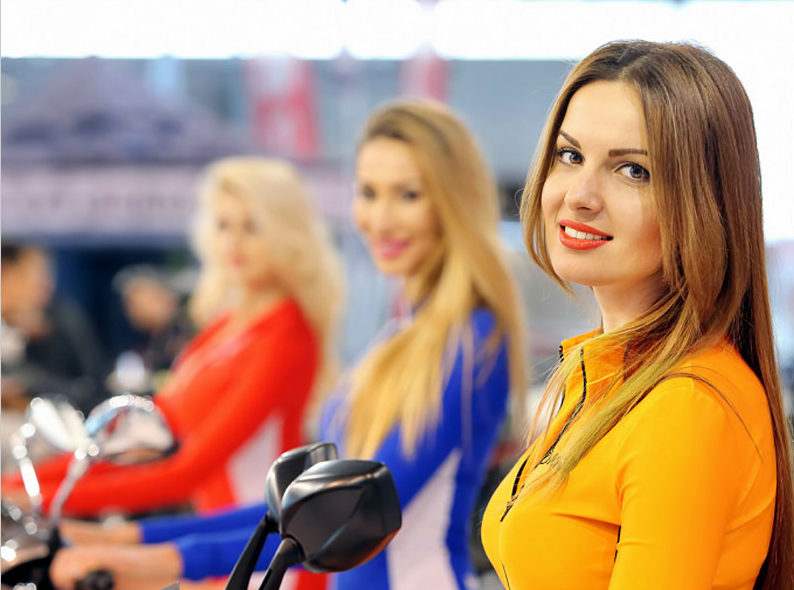 The truth about trade show booth babes.
We don't typically refer to our promotional models at "booth babes," however, you may often hear people refer to trade show models as such. I recently shared an article on my LinkedIn profile, where someone came back with a negative comment about how booth babes are degrading to women. I thought to myself, this person really doesn't understand the promotional modeling industry at all.  The truth is, before I joined Vantage Advertising, I thought the same thing… pretty girls for trade shows. It didn't take long for me to realize I was misinformed about what trade show models really do.
At models4tradeshows.com we book trade show models in cities across the U.S. including New York, Chicago, Orlando, Dallas, Las Vegas, Los Angeles and more. Most often, the term "booth babe" is used by someone who doesn't fully understand the role of a trade show model.
When someone hears the phrase trade show model, it's easy to assume that means a booth babe in a short skirt, high heels, and bright red lipstick… but the truth is that our event models are so much more than just a pretty face. More often than not, our models dress in a way that is classified as business sexy (not too revealing), or most often in khaki pants, a company logo golf shirt, and comfortable flat shoes.
Our trade show models will work in a variety of capacities that go beyond standing around, looking sexy and flirting with visitors. Typically, when our clients hire models, they want them to greet visitors, scan badges, and answer general questions. It's also common for trade show booth hostess to help clients pre-qualify leads through scripted questions, and give product demonstrations or sales presentations.  These tasks are a far cry from someone just standing around looking pretty.  Our models are usually educated and well spoken, and can fully represent your brand as if they were a full-time employee.
Believe it or not, our promo models will actually take the time to research your brand before they ever step foot on the trade show floor.  They take the job seriously and want to represent you as well as any employee could.
We staff events for clients in just every industry you can think of for shows like the PGA Merchandise Show, IDDBA, CES, and MAGIC (just to name a few). Regardless of the industry, our clients come to us with very similar goals for their trade show exhibits. They need to:
Increase foot traffic and the number of visitors who step into their trade show booth.
Expand their reach and brand visibility at the event.
Increase the number of contacts collected at the show.
Increase the number of qualified leads at a show.
Close more sales or build new customer relationships.
Get more people to sample or try their products.
Hiring experienced trade show models is an excellent way to expand your staff at a trade show, knowing they are experienced with engaging with show visitors. It's time to stop thinking of our talented event models as "booth babes" and being to appreciate the value they provide to your trade show booth.
Interested in learning more?  Check out these related articles for a deeper look at what trade show models can do for you:
More Article Text