4 Things You Should Do When Applying for Promotional Modeling Gigs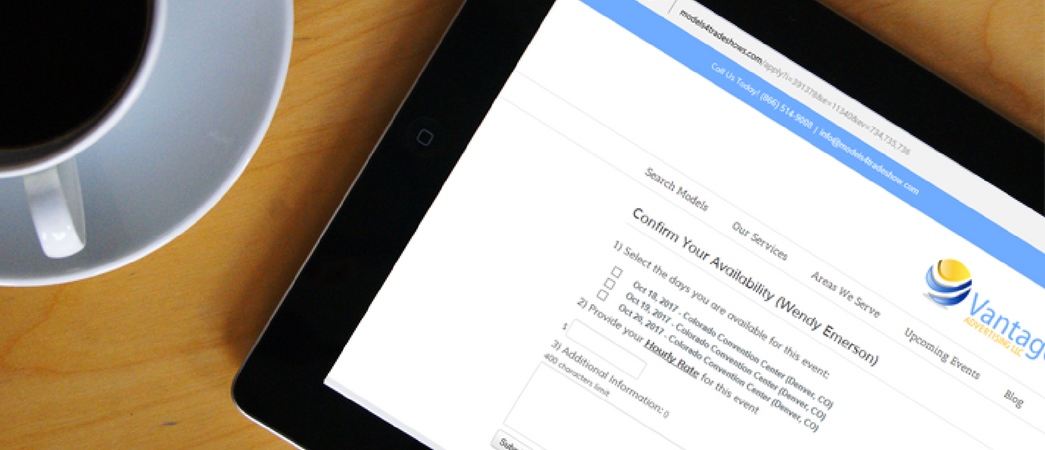 What you need to know about applying for promotional modeling gigs.
Want more promotional modeling gigs? Let's review how the process of booking promotional models works. Hopefully you read the article on how to create an effective model profile on models4tradeshows.com. Setting up your model profile is the first step to getting booked as a promo model or brand ambassador. If you are a promo model or brand ambassador and do not have a free profile setup with Vantage Adversting – stop right now… Go set up your new profile!
Our process starts when a client contacts us with a need. They have an upcoming promotional event or trade show and need some assistance with staffing. Once we have their information, we scour our talent database – which is made up of talent profiles that you and your fellow promotional models created.
Once our Account Executives narrow down the list of potential models, and invitation to apply is sent to the models.  These invitations are sent via email – so be sure the email address in your profile is up-to-date. You do need to apply to every event you want to be considered for. If you don't, your profile will not be included in the final list sent that is sent to the client. Vantage Account Executive Claire shares some of her trade secrets for improving your chances of getting booked when you apply for promo model gigs.
4 Key Recommendations for Applying for Promotional Modeling Gigs:
First – Give your model profile a refresh!
It's always a good idea to take a quick look at your model profile before applying for gigs. Clients don't use their imagination when picking models, they use your profile. Having quality event photos is more important than having 4 photos from the same photoshoot. Many times our clients have picked one promo model over another because one had a photo of herself at an event in business attire and the other only had studio photos. If you are applying for a gig, and one of the notes in the description mentions business attire… show clients what they're asking for by updating your profile with a photo in business attire.
Second – Don't wait. Apply right away!

We usually send the client a list of available models within 24 hours. If you apply right away you have a better chance of being seen by the client. So always check your email! One thing to be aware of that is out of our control is this… Even though we send our client a list right away, it can take time for the clients to make their selections. We won't always have an immediate answer for you on your application but we will let you know as soon as possible if the client selects you.
Third – Be sure to include your desired hourly rate! 
Put a rate that reflects your needs. It should be an hourly rate that you will be satisfied with and committed to working the event. Most promotional models price themselves differently based on the demands of the event. Your desired hourly rate is a personal decision you must make. If you receive an invitation to apply for an event that is listed as a 'Flat Rate' event, that means the client has set the rate, and it's non-negotiable. In this situation, you have the choice to apply or not based on your personal needs.
Finally – Read the description of the event before you apply!
Make sure you understand the needs of the event BEFORE you apply. If something is unclear, contact your Account Executive right away for clarification before proceeding with the application. Please don't just apply for jobs because you received an email. Consider all of the information provided for a particular job and then decide whether or not to apply.
Additionally, when you read the actual description, you'll learn more about the specific event.  If you take the time to read the event details, you might learn it's a tech conference or a show you may have worked in the past. Provide more information about yourself, your past experience or relevant skills in that comment section. The more information you provide, the easier it will be for the client to select you.
Your completed application should resemble this: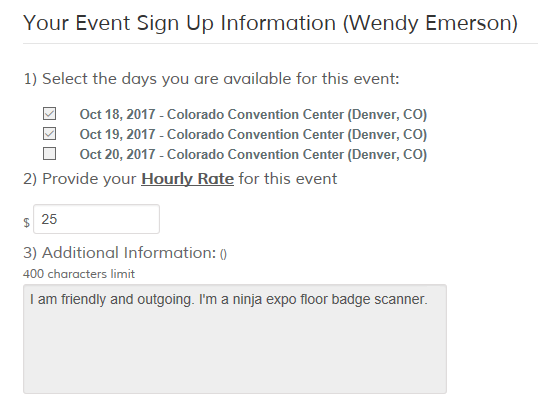 Remember, if you want to be selected for upcoming promotional modelings, use every tool you can to get noticed by our clients. Be sure your model profile is up to date with current photos and experience. When you apply for gigs with us, include all the right information that will make it easy for the client to choose you!