Tips for What to Wear at Trade Shows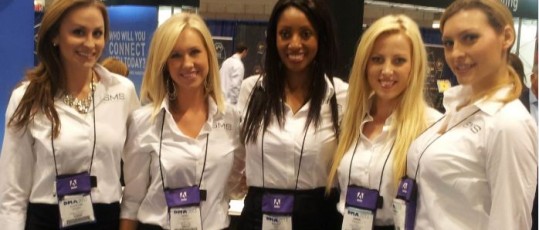 Tips for What to Wear at Trade Shows
First impressions are vital to every relationship, especially at trade shows. So, when you're attending, or exhibiting at a trade show, it is important to focus on the type of impression you and your trade show staff want to make. One of the main components that helps to define the first impression your brand makes is what you wear at trade shows.
Please note that these trade show clothing tips are meant for business professionals. For a wider range of what people are wearing a trade shows, read our blog on trade show model attire.
Tips For What to Wear At Trade Shows
1. Business Professional.
At a trade show, you'll be interacting with people at all levels of business and with a variety of backgrounds and expectations, so it's important that you and your trade show staff wear business professional attire. Here are some examples of what to should wear at trade shows.
Trade Show Attire for Women:
Blazers and slacks, or
Pantsuits, or
Dresses, or
Skirt suits, and
Heels.
Trade Show Attire for Men
Suits, or
Sport coats and slacks, and
Ties, and
Leather shoes.
2. Be Polished From Head to Toe.
Just wearing a suit at a trade show isn't enough. Be sure that you're well groomed with a nice haircut, wearing ironed/pressed clothing and have polished shoes. And, don't forget the small details! Pay extra attention to your hands and fingernails since you'll be shaking a lot of hands! And remember to keep the perfume and cologne to a minimum. Wearing too much cologne is not the way to attract attendees and increase leads with one of the 5 senses.
3. Be Comfortable.
Finally, when deciding what to wear at trade shows, pay close attention to your feet. During trade shows, you'll be on your feet, smiling and interacting with attendees for hours on end. If your shoes are too small or your heels are too high, your feet won't make it. Purchase shoes that are comfortable and appropriate so that you can concentrate on networking with industry professionals instead of worrying about your aching feet.
And don't forget about your promotional team! When hiring trade show models, make sure that they are dressed professionally and comfortably as well.
Now that you know what to wear at trade shows, don't forget to bring a positive attitude!