Promo Girl Outfits: How Promotional Attire Defines Your Booth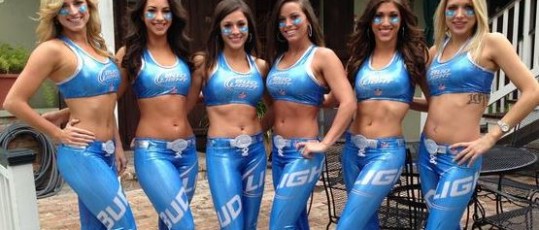 Promo Girl Outfits: How Promotional Attire Defines Your Booth
Once you've purchased promotional merchandise, selected a booth location, and hired trade show models, the next step is to determine what promo girl outfits the trade show models should wear. The clothing your event staff wears creates an atmosphere that can make or break business connections and thus, the number of leads your team generates.
Below we've outlined a list of the most common promo girl outfits and their associated meanings.
Promo Girl Outfits: Business Attire
Formal Evening wear
This is an elevated version of business professional dress and allows for brighter colors and busier patterns.
Examples: Dresses, gowns and high heels.
This is an ideal outfit when:
• You want to illustrate that your company represents: elegance, wealth, class, and intelligence.
• You want to visually portray your company as sophisticated and ready to discuss serious and important business matters.
• Your company is exhibiting at a wine tasting or private event that is associated with grand, fashionable attendees and guests.
Business Professional
This attire traditionally focuses on colors such as black, white, tan, blue and gray.
Examples: Blazers, pantsuit, skirt suit and/or high or low heels.
This is an ideal outfit when:
• You want to make your trade show goals of distributing important information and nurturing professional relationships obvious.
• Spokes models are teaching trade show attendees about your company, listening to their questions, and responding to their thoughts in a professional setting
Business Sexy
Business sexy is a dressed down version of business professional attire with a touch of eye-catching, attractive clothing to engage attendee interest.
Examples: Cardigans, attractive blouses, pencil skirts, flats, or high heels.
This is an ideal outfit when:
• Your team is interested in making serious connections and educating new customers about your product in a lighthearted, relaxed manner.
• You want to attract a wide range of attendees to your booth.
• Your promotional event has a mix of business professional and business casual attendees.
Promo Girl Outfits: Casual Attire
Business Casual
Business casual attire typically focuses on bright, warm and inviting colors.
Examples: Polo's, t-shirts, khakis, flats and sneakers.
This is an ideal outfit when:
• Your focus is customer-oriented.
• You want to place an emphasis on making real and memorable connections with attendees.
• Event staff must be able to easily move in their attire.
Sexy Casual
Sexy casual attire allows for creativity and attracts a lot of attention. Sexy casual attire is known for being bold, colorful, and walking outside the line of trade show attire standards.
Examples: Bright tank tops, shorts, unique dresses, heels and more.
This is an ideal outfit when:
• Your company's goal is to grab attention in a unique way and to attract a lot of attendees.
• You need a strong conversation starter.
• Your promotional event is taking place outside or at a bar.
Now that you have a better understanding of the different types of promo girl outfits, determine what impression you company would like to make at your next promotional event. Then, contact us of our Account Executives to help finalize any last minute attire details.