Engaging Trade Show Attendees with Tweetwall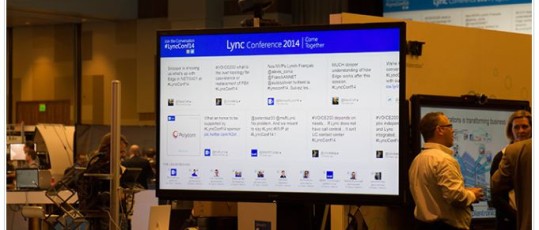 Engaging Trade Show Attendees with Tweetwall
One of the best aspects about my job is scouring the internet to find the most beneficial names in the industry and then sharing them with my readers. I love how it feels to finally discover that special brand or industry expert after spending hours digging through all of the noise associated with our industry.
So, it should come as no surprise to you when I say, that I am truly excited to introduce you to a brand that I deem one of those rare industry finds. The product, and brand, that I am introducing to you today is called Tweetwall and it's one of the easiest and most effective ways to engage with trade show attendees at your booth.
About Tweetwall
Tweetwall is a platform for displaying social media on screens at events which creates real-time engagement between event organizers/exhibitors and trade show attendees through social media. But, how does it work? As you probably guessed, Tweetwall is a customizable platform that continuously displays a real-time feed of tweets associated with hashtag(s), user(s), or keyword(s). The focus of Tweetwall is to sort through the noise and clutter of Twitter to target and display the most important topics, people, and discussions in your industry according to your specifications.
For a more in-depth look at Tweetwall's history, take a look at their story.
Benefits of Tweetwall
Along with targeting and displaying a customized list of hashtags, users, and keywords on your personalized Tweetwall, Tweetwall also has a number of other benefits that will help your brand to stand out and engage with more attendees.
Tweetwall Provides:
• Unlimited number of hashtags, users, and/or keywords.
• A fully customizable platform to match your brand, including the color and design.
• A platform that encourages engagement, interaction, and communication with attendees.
• On average, a 30% increase in attendee engagement.
• An automated filter to help keep out those unwanted tweets. Some of the most common filters used are against profanity and retweets.
• Easy account access to remove and/or update hashtags, users, and/or keywords associated with your account.
• Easy set up.
• The ability to display your Tweetwall on an unlimited number of screens.
• Twitter analytics and stats that are available in real-time by logging into your account. These stats are always available and will never be removed.
• The ability to compare stats year over year, or event to event.
• Integration with Instagram and Facebook.
• Friendly and reliable support team to help answer your questions and solve your problems.
Integrating Tweetwall with Other Event Marketing Tactics
For even better marketing results stemming from Tweetwall, try integrating it with your other marketing tactics. For example, use Tweetwall to announce and display a specific hashtag associated with your trade show games. Or, display and run polls, contests, or announcements via Tweetwall's platform. You can also integrate Tweetwall with Instagram and Facebook, helping your brand to expand its reach even further.
Cost of Tweetwall
There are two pricing structures for Tweetwall. Both packages include a fully customizable filter to weed out unwanted tweets as well as the ability to fully moderate (approve/deny) any tweets, both on and off site, 24/7.
1. Self-Service: The self-service product is built and customized on the Tweetwall's website by the consumer. It includes all of the benefits listed above. The total cost for this self-service product ranges from $29/day – $107/day depending on the type of modifications and adjustments your customized Tweetwall contains. This package is ideal for exhibitors that only want a few Tweetwalls displayed in or around their booth.
2. Full-Service: The full-service product is built and customized to your needs by an Account Manager that is assigned to your company's account. The Account Manager works with your brand from the moment you contact the company, to well after the close of the event. They gather the customization requirements from you and then work with either your design team or their own to create a Tweetwall that is 100% unique to your brand. On the day of event (or before if you have a scheduled setup day), they'll work remotely with your AV team to ensure that everything is setup correctly, while a support team monitors and corrects any issues that arise during the event. A full-service package also includes the partnership between Tweetwall and Twitter to ensure that your Tweetwall isn't missing any tweets! The total cost for the full-service product is $249/day with a $1000 set-up fee. This package is ideal for event organizers that want to fully incorporate and display their Tweetwall throughout the duration of the event.
Overall Review of Tweetwall
While Tweetwall has many competitors that provide both free and paid services, the customization and hands on help that customers receive from Tweetwall is simply unmatched. And, with the ability to increase engagement by 30%, you don't want to miss out! No matter how big or small your company is, if you're looking for an easy and customizable way to stand out and engage more trade show attendees, I highly recommend giving Tweetwall a try.
Getting Started
Ready to give Tweetwall a try? Email Tweetwall's support team at: support @ tweetwall.com or head over to their website and fill out a contact us form.