5 Trade Show Games That Help Build Brand Awareness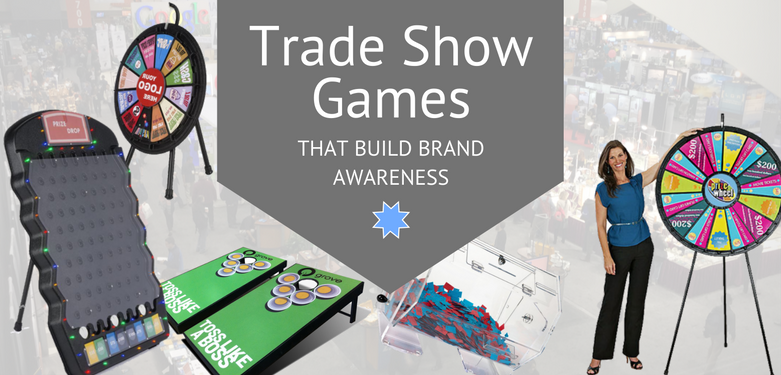 5 Trade Show Games That Help Build Brand Awareness
Incorporating trade show games into your marketing strategy is a great way to increase booth traffic and generate more trade show leads. But, trade show games are no use to your brand or trade show marketing efforts unless they build brand awareness, collect quality contact information, and increase your ROI.
5 Unique Trade Show Games that Build Brand Awareness
1. Trade Show #Hashtag Prize Game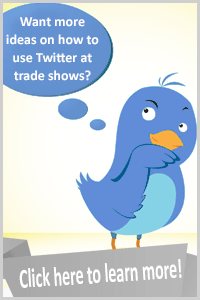 Using a brand specific hashtag to host a trade show game on Twitter, Instagram, and Facebook is an easy and fun way to get a large number of attendees to notice your brand both on and off the trade show floor. Clients of ours have had tremendous success with this type of trade show promotion.  If you need a booth model in Los Angeles to assist you with this type of game, please contact us.  Remember, when developing your trade show hashtag prize game use the following steps:
Select a catchy, brand specific hashtag. Keep it short, simple, and easy to remember.
Use your hashtag early. The sooner your brand incorporates the trade show game hashtag the better.
Be consistent. Don't start using your hashtag and then forget about it. Continue to use it frequently before, during, and after the trade show.
Incorporate the hashtag into all of your social media posts, as well as on your trade show marketing materials such as banners, promo items, business cards, etc.
Once you've created and promoted your hashtag, provide these rules to participating attendees:
Participants must follow your brand on social media.
The participant's hashtag must remain visible throughout the duration of the show.
Prizes will be awarded at random throughout the show.
Winners will be notified that they've won via a private message.
For more ways to use hashtags at trade shows, check out our blog: 5 Ways to Use Hashtags at Trade Shows.
2. Instagram – Where's Our Brand? Game
Similar to the trade show hashtag game we described above, the Where's My Brand? Game is an Instagram centered game that uses a photo contest to help increase brand awareness and reach. Here's how it works:
Hire promotional models to walk around the show floor in unique attire, with a branded sign, or anything else that will allow them to creatively stick out.
Game participants must find and take a picture with your promotional models.
Tell participants to post the image on their Instagram page and mention your brand in the post.
The post must remain visible throughout the duration of the show.
Prizes will be awarded at random throughout the show.
Winners will be notified that they've won via a private message from your brand.
Not only is Where's Our Brand? a great way to increase your social media reach, but the hired promotional models also act as a fun attention grabber for your brand and booth.
3. Trivia With a Twist
This is a classic trade show game with a modern twist! In this modernized version of trivia questions, use social media to promote and ask trivia questions about your industry and brand. The trivia question can relate to your brand's product, the industry, or can be completely random!
Here are the rules to Trivia with a Twist:
Participants must follow your brand on social media.
Participants must respond to your trivia questions by tweeting at your brand's handle with the correct answer or replying to your social post.
Once an hour, a winner will be randomly selected from those participants that answered correctly.
Winners will be notified that they have won via a private message.
4. Is That Your Final Trade Show Answer?
If you're looking for a game that's not on the internet, away from social media, and focused your trade show booth's live happenings, then try incorporating questions from your industry into a popular game show.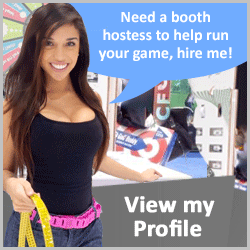 The concept behind this game is to incorporate unique information from your industry that is repackaged into exciting and competitive questions that mirror a popular TV game show. Because, let's be honest, who wouldn't love to answer industry based questions that are asked in a TV game show such as Deal, or No deal, Jeopardy, or Minute to Win it?
The key to this game is to make sure that some of the questions are about your brand. Otherwise, what's the point? Whether the questions are true or false, multiple choice, or timed, it doesn't matter. What really matters is making sure that while attendees are having fun playing the game, they are also learning about your brand!
Tips for hosting a spin-off of a popular TV game show at your booth:
Before allowing attendees to play the game, make sure they provide their contact information.
Provide questions that are difficult enough so not everyone wins, but not so difficult that no one wins.
If your theme only allows 1 attendee to play at a time, then key the game short by putting a time limit on it. The timeline ensures that dozens of attendees get to play the game each day.
Make sure the prize at the end of the game is worth the time it takes to play and enticing enough to attract a lot of participants.
 5. Trade Show Photo Booth Game
Another way to keep your  game offline and focused on your trade show booth is through the use of a photo booth. Photo booths are a great way to grab attention and get people talking about your brand.
Tips for hosting a photo booth:
Hire promotional models to promote your photo booth. Their job should be to attract attention and encourage attendees to try out the photo booth.
Provide props and other fun accessories for trade show attendees to wear.
For branding purposes, make sure that your company's contact information and name is printed on the photos.
Attendees that want a copy of their photos must fill out a contact us form.
Editor's Note: This post was originally published in July 2013 but has since been completely revamped and updated for the accuracy, quality, and satisfaction of our readers.