Hiring Promotional Models for Movie Premieres- 10 Questions to Ask Modeling Agencies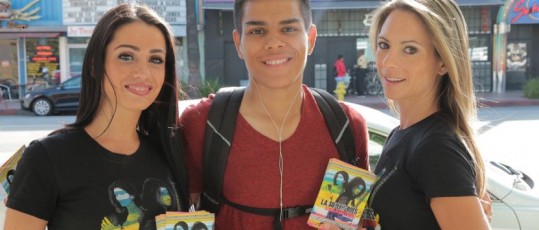 Hiring Promotional Models for Movie Premieres- 10 Questions to Ask Modeling Agencies
As the holiday season approaches, companies are using a number of different holiday marketing promotions to help build brand awareness and increase sales.  And, while everyone loves those holiday gimmicks and catchy commercials, this year, I have my eyes set on something else:  New movie premieres!
So, in order to turn my daydreaming thoughts into workplace productivity, I decided to provide event planners with 10 questions to ask modeling agencies when hiring promotional models for movie premieres.  Oh, and if any of you big shots out in Hollywood want to send me a free ticket to the Hunger Games: Catching Fire premiere, I wouldn't be upset…
10 Questions to Ask When Hiring Promo Models for Movie Premieres
Here are the 10 most important questions to ask an agency before hiring promotional models for movie premieres.
1. Does Your Event Staffing Agency Have Experience Hiring Promotional Staff for Movie Premieres?
Agencies that have experience hiring promotional girls for movie premieres are more likely to know what staffing road blocks your event might hit and which models will best fit your needs.
2. Does Your Event Staffing Agency Offer to Hire Promotional Model Managers for Movie Premieres?
Depending on the number of promotional models needed for your premiere, an experienced event staffing agency will understand that hiring promotional managers is necessary to keep a team of promotional models organized and focused on your event goals.
3. Does Your Modeling Agency Hire Back-Up Models for Large Events?
If the agency doesn't offer to provide back-ups for an event with 10 or more models- run. Sometimes things come up and staff can't make it to the event. Don't let a lack of pre-planning lead your movie premiere to disaster.
4. Does Your Event Staffing Agency Hire Local Promotional Talent?
No matter where your movie premiere is taking place, it is important to staff the event with local promo models. Why? Because, local models have a better understanding of the location and how long it will take them to arrive onsite.
5. Does Your Modeling Agency Have Enough Talent for my Movie Premiere's Event Staffing Needs?
This is especially important if you are hiring a large group of promo models. Make sure that the agency has enough models to fill your event quota. There's nothing worse than signing a contract and then finding out the agency doesn't have enough models to staff the event.
6. What is Your Social Media Reach?
Whether you are hiring promotional models for movie premieres that are big or small, be sure to check out the event staffing agency's social media reach. Are they active on social? Can they help promote your premiere? It never hurts to have a little extra media support!
7. What is the Experience Level and Professionalism of the Promo Models You Hire?
This is especially important for movie premieres where the promotional models may encounter a famous actor or actress.
8. Does Your Agency Provide Rates that Fit Within Our Budget?
Make sure the agency you choose provides you with the best quality promotional models for your budget. If the promotional models don't meet your standards, find a different agency or increase your budget.
9. How Easy is it to get a hold of the Event Staffing Agency?
Event staffing agencies that answer your phone calls or emails in less than 24 hours should be the highest on your list. In a moment of crisis, you want an agency that is easily accessible.
10. What Are Other Companies Saying About Your Event Staffing Agency?
Finally, see what other companies are saying about the event staffing agency. Check out testimonials and reviews.
By keeping these 10 questions in mind- hiring promotional staff for movie premieres should be a piece of cake.