5 Ways Promo Staff Make Your Holiday Marketing Promotions Stand Out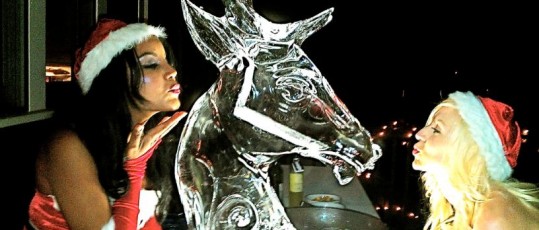 5 Ways Promo Staff Make Your Holiday Marketing Promotions Stand Out
Holiday season is almost here! Which means it is time for businesses to start planning their holiday marketing promotions. Now through December is one of the busiest shopping times of the year, so it's important for businesses to connect with their customers in a way that will last long after the presents have been unwrapped.
One way to keep your brand at the forefront of every buyer's minder is by hiring promotional models to kick start your holiday marketing promotions.
5 Ways Hiring Promo Staff Make Your Holiday Marketing Stand Out
Going Mobile:
The holidays are a great opportunity to go mobile with your company. Hire promotional staff to mingle with customers and attract them to your business by showcasing a new app or feature of your product on an iPad, iPhone, or Android. Generate even more buzz around your brand by creating a contest that customers can only enter if they like, follow, or connect with you on social media. For more tips on incorporating social into your holiday marketing promotions this year, read Using Social Media at Trade Shows.

Holiday Party:
Throwing a holiday party? Turn it into an exclusive holiday promotion by inviting your biggest customers and releasing your latest products! Mix in promotional staff to be the face and entertainment of your event as hostesses, greeters, costume models, and more, and watch as your holiday promotion gives your brand some serious ROI!
In-Store Giveaways:
With all of the stress that holiday shopping brings, a small promo giveaway or coupon handed out by friendly promotional staff can really brighten your customer's spirit and make them remember your brand. Promotional models, paired with promotional items and coupons, add a friendly, welcoming vibe to your holiday marketing that is sure to reel your customers in.
Costume Models:
Hiring costume models to dress up for your holiday marketing promotion will not only increase customer foot traffic, but it will help to build brand awareness and interest among your customers. I mean, come on, who doesn't love a good holiday themed costume?
Big Sale Days:
Whether your brand benefits from Black Friday or Cyber Monday, you don't want to fall behind your competitors because you didn't do enough pre-holiday marketing, right? Hiring promo models to assist with customer service and promotions in the days leading up to these huge sale days is key your brand's holiday marketing success.
In the end, what holiday marketing is all about is making sure that your brand makes a presence during these busy shopping months. So, whether your brand hands out coupons at your store or hosts a big holiday celebration, be sure to hire promotional models to help your brand break through the holiday noise and attract shoppers to your brand.
What other holiday marketing promotions have worked for your brand? Let us know in the comment section below!