10 Holiday Marketing Ideas to Drive Business to Your Brand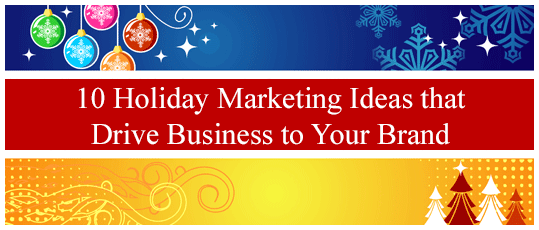 10 Holiday Marketing Ideas to Drive Business to Your Brand
As sad as it is to say good-bye to the long, hot summer nights, it's time for us marketers to get ahead of the curve, dust off the cobwebs, and start thinking about holiday marketing ideas that will drive business to your brand and blow your competition out of the water.
10 Holiday Marketing Ideas to Help Drive Business
Here are 10 awesome ways to drive business to your brand this holiday season.
1. Incorporate Social Media & Mobile –
This may seem like old news to you and your marketing team, but it's a marketing idea that should never be forgotten. According to a recent article by SocialMediaToday, social media users have risen by 176 million in the last year, while mobile users constitute half of the world's population. Woah, that's a lot of people! With numbers that high (and continuing to rise), it's important that you and your marketing team construct a holiday marketing promotion that incorporates both social media and mobile users.
Not sure how to incorporate social media into your holiday marketing strategy? Here are 5 Ways to Use Social Media Marketing in Holiday Promotions.
2. Start a Trend In Your Industry –
By establishing your holiday marketing ideas early, you have the opportunity to start trends in your industry. For example, instead of only promoting your brand's holiday sales on Black Friday, make your own holiday sale day! Create a sale day that is unique to your brand and then promote the heck out of it! Just make sure your holiday sale day satisfies your customers better than Amazon's Prime Day. Your number one marketing goal should be to satisfy your consumers.
3. Offer Exclusive Deals for Loyalty Members Only –
One of the best ways to get consumers excited about your brand is by providing an exclusive deal only for your private members. Not only do private member deals motivate loyal customers to continue to be loyal members, but it makes non-members feel left out, which will ultimately encourage them to become members.
The best way to promote exclusive member deals is by publicly sharing a sneak peek of the deals only available to members. But, don't show everything. Be sure to keep some of your deals a secret to lure in potential new members. To help promote these membership deals, be sure to advertise them on your brand's social media platforms and in your email marketing campaigns.
4. Think Long-Term –
When brainstorming your holiday marketing ideas, be sure to provide an incentive for consumers to stay connected all year long. Don't only attract them for your holiday sale. Give your customers a reason to keep coming back for more. Consider providing yearlong sales, coupons, or early bird deals to repeat customers throughout the year. No matter what your holiday marketing strategies are, make sure they encourage consumers to keep coming back.
5. Deliver Great Presentations –
Coming up with a great holiday marketing idea is one thing, presenting it in a way that grabs attention, inspires consumers, and leads to sales is another ballgame. After selecting a holiday marketing idea, take the time to determine an effective way to present it to your consumers. Think outside of the box and deliver an amazing presentation to your consumers that will produce the sales your brand is looking for.
One of my recent favorite examples of great presentation delivery is Geico's YouTube advertising scheme. They've found an effective and hilarious way to keep users from skipping their advertisements and instead increase engagement with their brand.
6. Fuel Consumer Anticipation –
How many times has the anticipation of a date, product, or event been better than the actual thing itself? More often than you would think. This is exactly why it's important to consider consumer anticipation when it comes to creating an effective holiday marketing promotion. Stimulating consumer anticipation is one of the best ways to get consumers talking about your brand. The more you build up your holiday promotion, the better!
7. Be Consistent –
This is huge! In order to have an amazing holiday marketing promotion, it's important that all aspects of your campaign and all team members involved are consistent in their stories and sales pitches. Nothing is more discouraging to a consumer then hearing two different stories from two different sales representatives or reading about the sale online and then trying to make a purchase and the prices don't match-up. Make sure every aspect of your holiday marketing promotion is up-to-date and everyone involved is confident in their responses to consumer questions.
8. Hire Promotional Models –
Hiring promotional models is a great way to promote your holiday marketing efforts before and during the promotion. Promotional models are experienced and skilled in promotions and know exactly what it takes to increase your leads and sales. Hiring promotional models allows you and your team to focus on more important tasks while the promotional models promote your brand.
For more information on how to hire promotional models, contact us.
9. Do Competitive Research –
While it's important to always keep an eye on your competition, it's especially important during the holiday season. Why? Because you want to make sure that whatever marketing tactics your competition is using, you are as well. By keeping up-to-date with your competitors you can ensure that your brand is staying current with the latest trends in your industry. Plus, you'll have a better idea on what marketing tactics your competition is focusing on and can adjust your marketing efforts accordingly.
10. Use a Variety of Techniques –
Finally, the last holiday marketing idea to keep in mind is to make sure your marketing team uses a variety of tactics and techniques to reach a diverse audience. Don't simply focus on one marketing tactic and then forget the rest. Consider your target audience and determine where they are consuming advertisements. Then market to all of those locations or platforms.