Trade Show Booth Exhibit Tips From Mel White- Part 4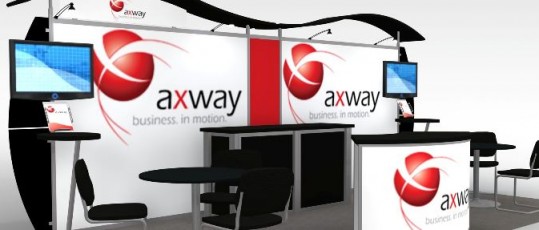 Trade Show Booth Exhibit Tips From Mel White – Part 4
This week marks the 4th and final installment of our 4-part interview with trade show booth exhibit expert, Mel White, VP of Marketing/Business Development at Classic Exhibits.
If you'd like to read all 4 installments of the interview, you can find them here: Part 1- Selecting a Trade Show Booth Design, Part 2-Trade Show Booth Exhibit Costs, & Part 3- Trade Show Booth Design Current Trends. We highly recommend that all exhibitors, no matter your experience level or budget size, take the time to read through the full interview. Mel is an experienced and talented trade show expert and he really knows his stuff!
This week we are wrapping up our interview with Mel's thoughts on renting versus purchasing trade show exhibits and some final miscellaneous, thoughts and ideas from Mel.
Want to make an even bigger impact at your booth? Hire event staff!
Renting Versus Purchasing Trade Show Booth Exhibits
1. What factors should an exhibitor consider before deciding to rent or purchase a trade show exhibit?
If you only need a booth once, or wish to test a certain type of booth design, then renting is probably your best bet. On the other hand, if your company is planning to attend many shows, then you should consider purchasing a booth. Consider how many times a year your company will participate in trade shows. Are you a small business or a business just getting started? You may want to consider renting. With the money you save by renting, you will have more money to put back into promotional items, literature, and all of your other expenses.
2. What are the advantages of renting a trade show booth display?
Renting gives you the flexibility of experimenting with different styles over the course of many shows. The cost of a rental booth is approximately a third of the cost to own. For more advantages of renting, see the following link:  8 Reasons to Rent.
3. What are the advantages of purchasing a trade show booth display?
No compromises. You get exactly what you want, and if you use it more than three to four times, the ownership cost is less. It's no different than owning a car.
Miscellaneous Trade Show Booth Design Questions
1. Classic Exhibits works with over 150 Distributors. What exactly do the distributors do for exhibitors?
Classic Exhibits distributors are first and foremost consultants. Every distributor is an exhibit professional who recognizes that Exhibit Marketing is a specialized field and understands that their client's ROI is measured at every show. As such, they're interested in both the short- and long-term success of their client. Anyone who has jumped into exhibiting without guidance from an expert knows that it's easy to make costly mistakes. A Classic Distributor will make sure that their clients purchase the right display within their budget, assist them with show services, fine tune their exhibit marketing program, and work with them as their marketing evolves. There's little incentive for a Classic Distributor to handle transactions as "one and done." They rely heavily on repeat customer sales and referrals.
2.  Is the cost of the distributor included in the overall cost of the trade show booth display?
Yes. However, some distributors may charge for specific services.
3. Thanks for taking the time to be interviewed by us, Mel! Is there anything else you would like to share with trade show exhibitors?
Benjamin Franklin said, "If you fail to plan, you are planning to fail." Purchasing or renting an island booth requires the cooperation and expertise of both the exhibitor and the exhibit consultant. Don't be afraid to interview multiple exhibit companies. There's too much money at stake not to work with someone you respect and who shares your vision. Finally, invest the time in pre-show marketing, show training and planning, and lead follow up. In truth, it's SO MUCH more important than the exhibit.
For more information about exhibit marketing, click here for over 50 articles about trade shows and trade show marketing.
Thanks for all of the detailed trade show booth exhibit advice, Mel! We truly appreciate you taking the time to help and inspire trade show exhibitors. We hope that trade show exhibitors reading this interview found it as beneficial as we did!
Well  trade show exhibitors, that's a rap! Thanks for tuning in. Don't forget to check out Classic Exhibits.