Promotional Modeling Gigs: Agencies vs Direct Bookings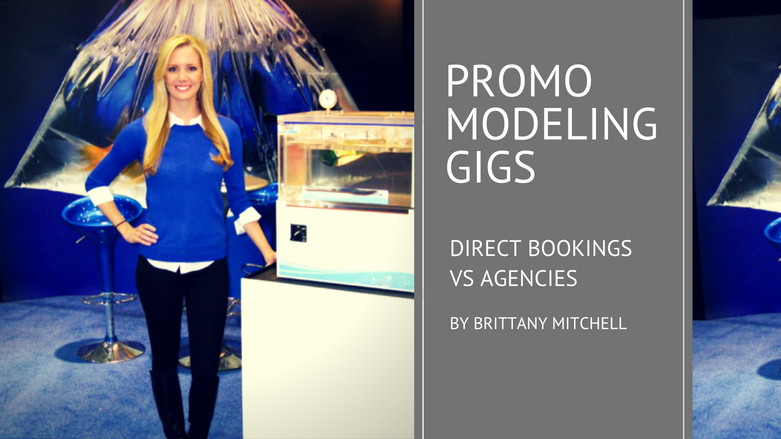 Promotional Modeling Gigs: Direct Bookings vs Agencies
As a promotional model, should you cut out the middleman? I hear it all the time, promotional talent asking whether or not they should work with clients directly. It's a question that always leads me to ask more questions. The most important being "Where did you find this client who is looking to hire you directly?" This question holds so much weight because it's important to know how reliable the client might be or if the model is potentially doing his or herself a disservice in the long run. Before you decide which way to go, there are pros and cons to both working through agencies and booking promotional modeling gigs directly with clients.
First and foremost, if the client approaching you is one you've previously worked with through an agency then the answer is most definitely NO! Not only is it written in your contract with the promotional agency that you should not have outside contact with their clients, but stealing a client from an agency is essentially biting the hand that feeds you. Simply put, you'd better decide that client is worth the money you're about to lose when your staffing agency drops you. Is working one or two shows a year with that client worth losing the countless bookings an agency is capable of hiring you for? While it's possible the client may offer to pay you a higher rate than the agency pays you for their bookings it's not likely to put you on top in the long run. Another, benefit of booking promotional modeling jobs through an agency is that you'll have an extra level of security. Agencies have a protocol to deal with delinquent payments and difficult clients and will handle other miscellaneous issues and all the booking details so you don't have to. They know all of the questions to ask so you and the client know what to expect from each other. Event Staffing Agencies take the guesswork out of your job, and make sure you get paid. Plus, they'll have your back if the client is treating you unfairly. Believe it or not, your agents have your best interests at heart because your awesome talents are part of what makes their agency attractive to repeat and new clients. Agents get to know your strengths and weaknesses and will push to get you the best opportunities to help your skill set shine. Having your best foot forward gets those happy clients coming back to book you for their future shows and leaves your agents wanting to book you more and more with other clients. Your agents want you to make the most money and to enjoy doing your job!
All those pros are probably making working with agents sound like the only way to go. And while usually I do find that to be the case there are bad agencies out there. Be sure to do your research on the agencies you register with and ask around to find out how others feel about working with them too. You want to know that they pay in a timely fashion and that they attract the kinds of promotional modeling gigs you're interested in working. You don't want to sign with an agency that typically only hires "booth babes" when you prefer working as a brand ambassador. Or one that is only interested in the client's needs and will throw you to the wolves and expect you to perform at your best regardless of the conditions.Learn More About Promotional ModelingOn the flip-side, working for yourself can be rewarding in knowing that you're completely self-sufficient. The right networking can help land you some great modeling gigs working directly with clients. You can charge whatever you want and no one is going to be taking a percentage of your paycheck. You can cut out the dreaded "just in case you're running super late" overly padded time generally added to agency jobs and depending on your relationship with the client you may be able to work out more flexible hours. Also, you won't have to worry about adhering to any extra modeling agency requirements like checking in with them when you arrive onsite, taking pictures on the job, or filling out a recap at the end of a booking. You and the client work out the details together and find what works for both of you. It's nice being able to build your own relationship with the client and find your own groove.
But there are also plenty of risks involved. If you're booking promotional modeling gigs with random companies on Craigslist or other job posting sites where you've never previously met with the client you don't always know what you're going to get. There's always a level of uncertainty with each booking because not every company knows industry standards for hiring promotional talent. You might get stuck working terrible hours or be forbidden breaks because you didn't think to negotiate certain details up front. Or maybe you saw a posting with decent pay and thought it sounded fair but the reality is that an agency would have paid you more for the same skill set. Many companies who go searching on Craigslist or looking to hire talent directly are doing so to save money and potentially cut corners. These companies are usually looking to avoid paying agency fees. It's also very possible that they've never hired outside help like you and have very unreal expectations for you or your job responsibilities. The worst is when you're left wondering how and when they're going to pay you. Without a formal contract you often have to take their word that you'll be paid accordingly. I learned that lesson the hard way because starting out in the industry I made the unfortunate mistake of taking someone's word on what I'd be paid for a three day gig and ended up being shortchanged with no defense or contract guaranteeing me the money. It was inexperienced-me against them and sadly I was scammed. I hadn't thought to cover all my bases and thoroughly research the company beforehand because if I had, I would have noticed that their website wasn't really legit and upon arriving onsite, neither were their products. My job was helping them sell "fake" merchandise such as imposter Ed Hardy belts and peeling "Made in China" stickers off of cloths being touted as authentic Shamwows and, let's be real; everyone knows that product originated in Germany. Ultimately this was an important lesson I had to learn and one I only needed to learn once.
If you build a relationship with a potential future client and don't want to take any risks then tell them about your favorite staffing agency you work with and send a referral. Some agencies even give a referral bonus for bringing in more work. Besides, a little money off the top to the agency could be well worth the added peace of mind. Letting the agency sort out the details will allow you to focus on doing your best. My advice if you're looking for more work would be instead of scouring Craigslist or job boards looking for one-off opportunities, try to spend your time applying to more agencies. That way you can let the work come to you while you're keeping your eye on your ever-expanding events calendar. Why spend your free time frantically searching for the next gig? I bet if you check your email there's another opportunity coming up and the agency is looking to hire someone awesome like you.