Promotional Modeling – What to Expect on Your First Gig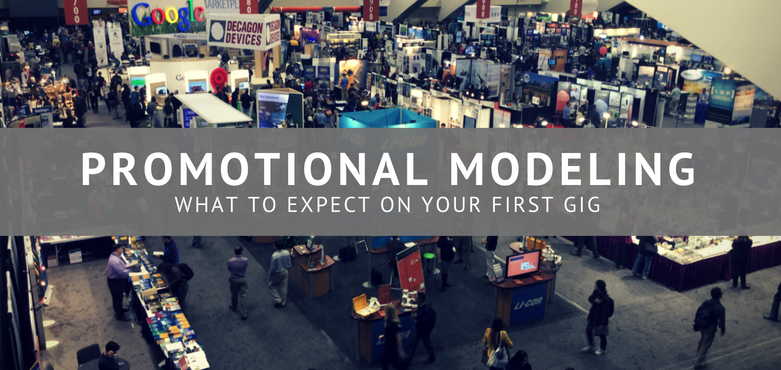 What to Expect on Your First Promo Modeling Gig
Congrats! You've been booked for your first promotional modeling gig. You sent in your photos and resume, got a call and you're good to go. What should you expect?
Well, the industry standard is that you should arrive on site 15 minutes early to give you time to find your onsite contact, check in with the agency, get in your uniform and be ready to start working by your clock in time. Make sure you printed out your time sheet, recap, product information and directions if any of that was sent to you. Come dressed in your uniform, it's normally specified in your booking email what you should wear (khaki shorts, black pants, dark jeans and closed toes shoes are standard). It's always a good plan to wear a tank top to easily put on a branded shirt without having to change, especially if the client needs the shirt back at the end of the event.
Don't forget to check in with your promotional agency.
If you're supposed to check in with an app make sure you have that downloaded and bring a portable charger with you just in case. It's a good idea to bring water and a snack as well, and depending on the venue you should only bring a small bag or clutch because there may not be a safe spot to leave your things, especially if you're outside.
Make sure you know where you're supposed to be and that you're on time. The biggest requirement for these jobs is showing up, if you're late you may be replaced by an onsite or on call backup brand ambassador. Don't be surprised if you start getting texts from your booking agent or the promotional tour manager asking where you are, this is standard so you should text your contacts when you arrive.
A check in photo of you on site is always appreciated and is sometimes required. Ask a fellow brand ambassador or passerby to take a photo of you at the footprint with something branded in the shot. This will also help you when you're applying for more gigs if the job is similar you can include the photo with your application.
Sometimes you may be asked to help setup.
Some set up may be required when you get there. This could include getting a tent out, setting up the table, putting up signs and organizing the product or giveaways. Be ready for a bit of manual labor here, it goes by quick and shouldn't take more than 15 minutes if everyone pitches in. If you're working an in-store demo by yourself you'll have to locate the product in store and set up your table, it's good to do this during that 15 minute gap before your official start time. Don't be afraid to ask store employees for help if you don't know where to set up or if you need something like a trash can.
Working your promotional event.
Now that you're set up make sure you know the drill. Check your product knowledge on what you're demoing, sampling or selling. Review with your tour manager or client if they're on site and ask any questions you may have so you're not at a loss when a customer asks a question. Get an elevator pitch down and focus on the goal of the event. Is it lead generation? Is it selling? Is it sampling? Knowing that will help you focus on a successful outcome and make the client happy. If too much is happening ask what your goal is. If you're role is simply to generate traffic to the footprint and then pass customers over to an activity like a photo booth than greet as many people as you can. If you're pitching a product to customers, have a 30-second explanation and then offer them the deal: the sample, the contest entry, or the sale. Keep it simple and sweet and remember to smile and stay upbeat during your shift!
The Finish line!
When you're nearing the end time coordinate with the store manager if you're demoing or the tour manager if you're working a group event on how you should help break down the footprint and pack up. Ask if you can help carry anything to the tour truck or lead brand ambassador's car and say thank you to everyone you worked with. At a demo follow directions from the booking agency on what to do with extra products. Different agencies and states have different requirements on if you're supposed to take excess product with you, dispose of them, or leave them at the store. Make sure you have all your photos and recaps done and say thank you to the manager.
What you should do after your promotional gig is over
Make sure you've checked out if you're using an app or if you're supposed to get a time sheet signed. Send in photos and time sheets or recaps to your booking agency and double check you're all set for payment. Be sure to double check that you've completed all necessary paperwork. Add the event info to a spreadsheet to stay organized so you remember to follow up if you need to. While you're at it add it to your promotional model resume. If you run out of room put a section of 'Brands Worked With' at the bottom and list the client. If you liked working the gig see if they're hiring for other events in your area, a lot of clients are willing to book great brand ambassadors multiple times if they've gotten good reviews because they don't need additional training.
Great job completing your first promotional event!