5 Questions to Ask When Designing Your Trade Show Booth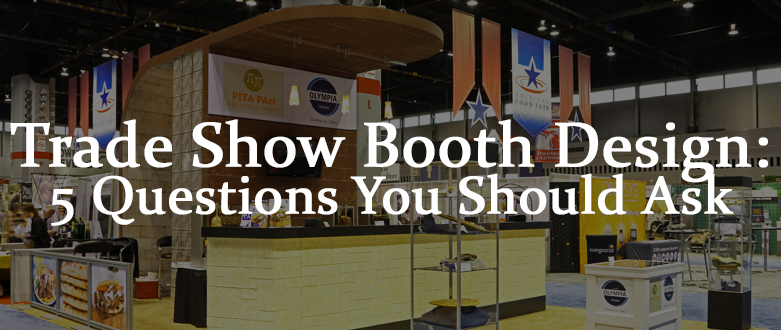 5 Questions to Ask When Designing Your Trade Show Booth
Are you exhibiting at an upcoming trade show but aren't sure what trade show booth design is best for your brand? Two important aspects to consider when planning your booth design are what first impressions your design says about your brand and how attendees will perceive it.
Some important topics to think about as you plan your trade show booth design include:
Seating
Booth colors and media
The following questions are a great starting place to help your trade show team design a show-stopping booth.
Trade Show Booth Design – 5 Questions You Should Ask
1. How should attendees feel when entering your trade show booth?
An attendee's first impression of your brand begins the moment they see and enter your trade show booth. Before they start to interact with members of your trade show team, they will begin to develop opinions and associations about your brand based on your trade show booth's style, color, and design. Therefore, when planning your trade show booth theme, consider what impression your brand wants to give. Attendees are more comfortable if they are welcomed, so opt for open space if you want them to feel a sense of freedom within your booth.
No matter what your trade show theme is, be sure to take a step back and try viewing it from the perspective of an outsider. One way to do this is by showing the design to a group of family, friends, or coworkers that are not involved in the trade show booth design process. Based on the theme and design of the booth ask them if they would be interested in approaching or deterred from entering. Then, ask for feedback. Ask them why they feel that way and what could be done to improve the design. When developing the questions, be sure to include questions that will provide detailed answers that will benefit your brand's business goals.
2. Is there a seating area or place for attendees to gather?
Another aspect of trade show booth design that your brand should consider asking is what type of seating area, if any, your booth with have. There is no overall correct answer, however, many trade show exhibitors find that incorporating trade show seating into their booth design is beneficial to their brand because it encourages attendees to stay an engage in conversations between fellow attendees as well as sales.
When it comes to trade show seating there are a variety of different styles your brand can choose from. Some exhibitors choose to have bistro seating to encourage comfortable one on one conversation, lounge seating to allow multiple people to sit and have flowing discussions, or high top tables with no chairs to make their trade show booth space more like a cocktail party. Each seating arrangement is unique and has its own set of pros and cons. The choice at hand depends on what option is best for your brand and what type of atmosphere you want to portray.
If your brand can't afford trade show seating or your trade show booth simply doesn't have enough space to offer seating to attendees. Don't sweat it! There are plenty of other ways to encourage attendees to stay engaged with your brand at your trade show booth. Instead of seating, consider incorporating other marketing strategies such as trade show games, contests, media, samplings, presentations, and so much more!
3. How will your trade show graphics and signage impact your brand?
Trade show signage and graphics are the easiest and fastest way to get your brand's message to your audience. The signage should be bold and big, so it can be viewed from a distance and draw attendees in. In order to promote easy reading and ignite interest, the font used on the graphics should be simple in color and design. Some brands choose to have vertical signage to help attract more attendees as they walk by, while other brands incorporate large signs into their trade show booth that act as the focal point. Meanwhile, some brands incorporate both! Similar to trade show seating, each approach to signage and graphics has its own list of pros and cons and will work in different ways to attract consumers.
4. What colors is your brand incorporating into your trade show booth design?
The color scheme you incorporate throughout your trade show booth design and theme is another important factor to consider when deciding on your trade show booth design. In fact, it is so essential, that we decided to dedicate an entire blog to the topic. You can check out the blog here: Trade Show Graphics – What Color Says About Your Brand.
When it comes to deciding which colors will benefit your trade show booth design the most, be sure to consider the following:
Your brand's current color scheme
The psychological meanings that colors have on the human brain
For example, just because a particular color creates a certain feeling and/or meaning in the human brain does not mean that you have to incorporate it into you trade show booth design. Instead, compare your brand's known color scheme to the descriptions of the color meanings in our blog post and develop a color scheme that incorporates both.
5. What does your trade show team look like in your booth space?
The last question to ask before designing your trade show booth is about your event staff. As we all know, the success or failure of your trade show booth is largely based on the event staff you have working at your booth. They attract attention, generate leads, make sales, and help create a brand image for attendees. Because of the important role event staff plays in the success of your trade show, your company should consider what type of trade show staff your booth requires. Will your company decide to staff your trade show booth with your sales team? Or hire promotional models, brand ambassadors, costume characters, or event staff trained to hold demonstrations. In the end, the most effective way to engage attendees and close more sales is by having a team mixed of trade show models and sales members.