Tips for Your First Promotional Modeling Gig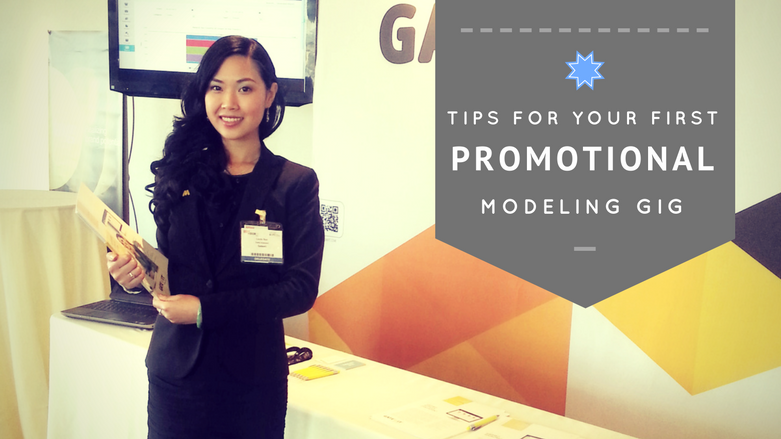 Tips for Your First Promotional Modeling Gig
So you've just landed your first Promo Modeling gig, Congrats! You're probably feeling a bit nervous, excited, and eager to start making money as a Promotional model.  To ensure you have a successful start to your career, I've put together some tips to help you get the most out of your first Promo Modeling job!  If you're just starting out as a trade show model, I'd suggest you also read The Unwritten Rules of Trade Show Modeling.
Tip #1 – Get to know the client you're promoting. Something about your modeling profile or interview must have made a positive impact on your client! Out of hundreds, and even thousands of applicants, this particular client chose you to represent them. You should absolutely feel honored! They are counting on you to effectively and accurately represent their brand, logo, or business.
You may feel overwhelmed at first, (especially if you're working for a big company like Red bull, Verizon, NASCAR etc.) You may think, where do I even start? Or say to yourself, "Maybe I can just stand there and look good". Well, to feel most comfortable on the job, and if you want to build a lasting relationships with your client, it's important that you do some research before your first day on the job.
Many consumers may come up to you during your gig wanting to know about the specific product, event or business you're representing. You will have to show and perhaps demonstrate as much knowledge as you have about your client. Not having a clue once you've been hired to market or promote, will make you look unprofessional on the spot. While you may not know all the answers, here are some questions to ask about the business: Who was the founder? When did the company/product start? Where is the company, brand, product located? Where can customers buy it? How much does it cost? Is it easy to use? Does it require additional support, supervision, costs? How can I demonstrate, perform, operate it? Who are the client's competitors? Who is their target audience? What are the benefits and risks of using the product? The brand or company that has hired you wants you to spread the word about their product, and to represent them in a polite, enthusiastic, and professional manner. They want you to attract new customers, so always know who your audience is! Are you promoting to teenagers or senior citizens? This is important, because you don't want to spend the whole day engaging with an audience that has no interest in the product or can't relate to it. Tip #2 – Have the proper attire, attitude, and appearance. We all know that in the promo modeling business, Looks go a long way! Your client has chosen you over others, perhaps because your modeling pictures showed your positive smile, healthy posture, and clear skin. You want to make sure you keep this same image on the day you work!
Show up with a positive attitude, having showered, your hair and makeup already done, appropriate clothing etc. If you show up, looking different than your modeling pics, this could make the client very angry. Be honest in your profile about your height, weight etc. If you lie, and then can't fit into the attire that is required, they may have to let you go. Also, if you die your hair from blonde to brunette, this could also be a major issue, so before making any last minute decisions about your physical appearance, be sure to always let your client know.
Always be honest; especially about tattoos and piercings. Don't be alarmed if your clients ask you questions such as your bra size, shoe size, and personal birthmarks etc. It's all a part of the model hiring process. Tip #3 – Prepare for your promotional event the day before. To avoid feeling nervous on your first day, here are some tips to help you feel best prepared! Double check the location, date and call time. Search for the best routes, if transportation is not provided, and allow for extra time, in case there is traffic or delays. DO NOT SHOW UP LATE to your first promo event.  If you break this rule, Call/Text your client as soon as possible and let them know. If you show up late to an event, don't be surprised if the client asks you to leave, or does not hire you again. Tip #4 – Bring water, and light snacks with you to the event. Many promotional modeling engagements can last for several hours. While it may not be appropriate to always be eating and drinking on the job, you don't want to become dehydrated and hangry from standing on your feet all day. Hide some water and quick snacks, like nuts or fruit to help keep your energy up! If you're working a food or beverage event, it's important to not have some of these out in the open however, as you don't want to accidentally advertise for a competing client! Tip #5 – Bring appropriate promotional attire. Some clients will have a special uniform, costume or outfit they provide. Others may ask you to wear your own wardrobe, whatever the case make sure it's appropriate for the client (and the weather). Sometimes you will be working outside in winter or summer, so bring a coat or do something with your hair to keep it out of your face. Also, wear the most comfortable shoes you can, if you are on your feet for a long time, or bring a spare pair in case a heel breaks! Don't forget items such as hand warmers, fans or sun block if you are working outside as well!Tip #6 – Get plenty of sleep and eat wellIt's really important the night before, that you take care of your body, and get adequate amounts of sleep. Usually eight hours is a healthy amount. Any less and you will not look your best at the event. This is especially important if you are working multiple days that week for your client). Eat well, stay hydrated and take care of your health! Also remember to bring any medicines with you on the day of the event that you take regularly. (I would also bring breath mints, and medicine in case you get an upset stomach on the spot.Tip #7 – Try and avoid getting sickYou will be coming in close contact with many new people, in a different environment, and germs can be spread easily. If you're shaking people's hands, always bring hand sanitizer, and wash your hands thoroughly. If you feel you may be coming down with a cold, take appropriate medicine with you, throat lozenges for instance if you are loosing your voice, and Kleenex if you are sneezing. However, if you are truly feeling ill, it is best not to attend the event and to let your supervisor know. They would prefer you stay home and rest for other events, than to get other people sick on the job.Tip #8 – Follow up with your agency after the promotional event has finishedMake you sure pick up everything, help with tear down if that is part of your job, and return any items, or wardrobe that was lent to you.  Leave the area, clean and tidy. I would also send a personal note shortly after, thanking the booking agency for the opportunity; perhaps even send them an event photo. They will love this!! Express to them if you wish to work with your client in the future, and work towards building a lasting relationship with them.
I hope these tips have prepared you for your first trade show modeling gig. Most likely, you are going to LOVE Promotional modeling, networking, and new discoveries! Be confident, prepared, and look your best. Best of Luck!