Trade Show Booth Design Tips from Mel White- Part 2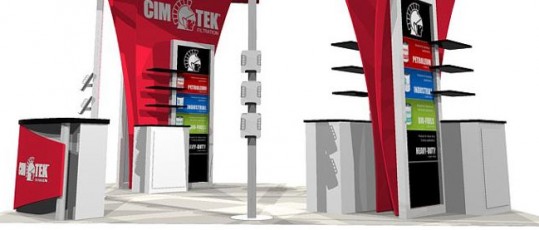 Trade Show Booth Design Tips from Mel White- Part 2
Welcome back for the second installment of our 4-part interview
 with VP of Marketing/Business Development at Classic Exhibits, Mel White. To read the first installment of this interview, click here.
This week we're all about the money! How much does it cost to purchase a trade show booth display, and is it worth adding the extras? Let's hear what Mel has to say.
Looking for ways to cut trade show costs? Hiring trade show booth hostesses is a great way to save money and increase your ROI. Learn how, here.
Trade Show Booth Design – How Much Does it Cost?
1. What percentage of a company's trade show budget should they put towards a trade show booth display?
Depends. How much of your business depends on face-to-face marketing for lead generation and relationship building? If that's a key part of your growth and sales retention, then it could be as high as 30-40%. Other businesses attract their customers online, through word-of-mouth, or through local advertising mediums. They'll devote much less to exhibiting, if they exhibit at all. Plus, it depends if your show schedule is domestic vs. international or local vs. national. Only you can make that decision based on your success with all marketing options.
2. What trade show booth design features are considered 'extra' and can be removed to help cut costs?
Everything is an extra except graphics. That's why pop ups were so popular for years. They're just one big graphic. Beyond that . . . it's all about what you need to tell your story effectively:  monitors, iPad kiosks, literature racks, pedestals, counters, workstations, seating areas, etc. Trade shows are 50% beauty pageant and 50% utility.
3. What storage options should exhibitors consider if they cannot store the trade show display in their office or store?
Most exhibit companies offer storage services, which are typically very reasonable. They want you to store your booth with them. First, if you store your booth with them, you are less likely to wander. Second, the check-in and check-out services will make your life considerably less stressful, and the exhibit companies can charge for it.
4. What additional services are included in the storage fees?
Some exhibit companies may include routine check-in where they verify there's no damage. Others have an online inventory system where you view your inventory and arrange for it to be shipped to the next show.
5. Is delivery, set up, and break down factored into the cost of booth display purchases?
Rarely. However, many exhibit companies will arrange for a preview and assembly demo on smaller exhibits at no additional cost. They want you to feel comfortable with the booth, particularly if you or someone from your company will be assembling it at the show.
Thanks for the detailed information, Mel! Your answers are a great starting point for exhibitors who are deciding how much of their budget they should contribute to their trade show design.
Continue reading the 3rd installment of this 4-part interview: Trade Show Booth Exhibit Tips On Current Trends.