Trade Show Booth Exhibit Tips on Current Trends – Interview with Mel White – Part 3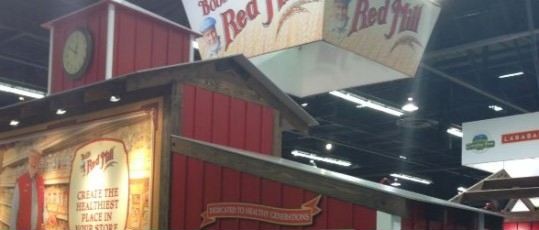 Trade Show Booth Exhibit Tips on Current Trends – Interview with Mel White – Part 3
Thanks for joining us for the 3rd installment of our 4-part interview with trade show booth exhibit extraordinaire, Mel White.
VP of Marketing/Business Development at Classic Exhibits.
Missed the first two interviews? You can find them here: Trade Show Booth Design Tips- Interview with Mel White of Classic Exhibits and here: Trade Show Booth Design Tips from Mel White – Part 2. This week, Mel will be talking to us about the current trends, the latest trade show exhibit designs in the industy, and what that means for the exhibitor. Already have a trade show booth exhibit? Don't forget to hire trade show booth staff in order to ensure your booth as the most visibility.
Current Trade Show Booth Exhibit Trends & Designs
1. What would you say are currently the most popular trade show booth exhibit trends?
Not surprisingly, there's a big move toward lightweight and reconfigurable booths, whether inlines or islands. Why? Because, everyone wants to save on shipping and drayage costs. In my opinion, the most effective solution is engineered aluminum extrusion and tension fabric graphics. Oddly enough, these materials are just as effective in a table top as they are in a 50 x 50 island. Within that trend, the buzzword is "hybrids." Hybrids are the blending of multiple components and materials to achieve a customized look without the expense of an all wood display. This can include aluminum, fabric graphics, direct print graphics, and even fully assembled custom elements.
2. How do these trade show trends relate to attendees and audience members?
In two ways . . . cost savings and BIGGER impact. With this current trend, exhibitors are getting more "bang for the buck" than ever before. (Interviewers note- Did you hear that exhibitors? These current trends can help you make the impact you want, all at a lower price!) Large format graphic prices have decreased with the ascent of dye-sublimated fabric, and the impact of large graphics is noticeable at most shows. There's less visible structure and more message on nearly every booth. In addition, engineered aluminum allows the exhibitor to add or delete components depending on the show, so the workstation that made perfect sense for Show A can be easily removed for Show B.
3. Lately, we have heard a lot about going green at trade shows. What factors make a trade show booth design green?
Green or eco-friendly designs fall into two camps: companies that want to look "green" and those that want contemporary designs but with eco-responsible materials. Both are easy to accomplish. The most important component is recycled or recyclable materials:  aluminum, post-consumer fabrics, or sustainable materials such as bamboo or sorghum. Many wood and plastics are sustainable as well. In general, green designs are no more expensive than traditional booths, depending on the manufacturer but be sure to do your homework and ask questions.
4.  Finally, what is the most exciting or interesting Island Exhibit Classic Exhibits has ever built?
In Q1 2013, we built a custom wood 20 x 30 island for Bob's Red Mill, a supplier of whole grains to supermarkets and natural foods grocers. The exhibit replicated their iconic mill where they originally processed all their whole grain products. It wasn't particularly modular, nor was it lightweight, but it captured the identifiable branding of the company and the founder. Bob's Red Mill just happens to be located about a ¼ mile from our shop which made it even more gratifying. It was a stunning island exhibit, which Bob's Red Mill expects to use twice a year for the next seven years.
Wow, that's really something! Thanks for all of the great tips and advice, Mel. Continue on to the final installment of our 4-part interview with Mel: Renting Versus Purchasing Trade Show Booth Exhibits.