Trade Show Booth Design Tips- Interview with Mel White of Classic Exhibits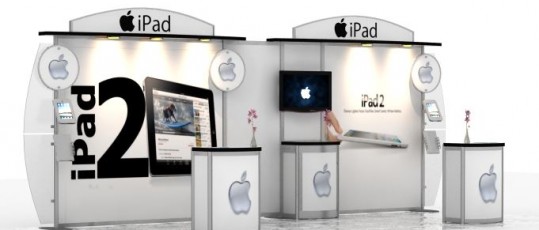 Trade Show Booth Design Tips- Interview with Mel White of Classic Exhibits
Hey there, Exhibitors! Are you interested in learning more about the world of trade show exhibits and what types of designs can fit your needs? Then, you're in luck! The following blog post is the 1st of 4 installments of our interview with trade show booth display expert, Mel White, VP of Marketing/Business Development at Classic Exhibits.
The goal of this interview is to educate, inspire, and enlighten experienced trade show exhibitors, like yourself, about the world of trade show displays. If this interview is a little too advanced for you, don't worry! Instead, read Trade Show Booth Display Tips for First Time Exhibitors which outlines the basics of trade show booth displays. And, while you're here- don't forget to hire promotional hostesses for your next event!
About Mel White
1. Tell us a little about yourself. How did you get started in this industry?
Mel: Like most of us in the trade show business, I landed here by accident. A consultant, who happened to be the professor of the capstone course in my MBA program, suggested that his client hire me as their Marketing Director. And I've been working within exhibit industry for almost 20 years managing portable, modular, and custom builders.
Classic Exhibits is primarily a designer and builder of portable, modular, and custom exhibits. Recently, as the market has changed and our skills have evolved, we've been asked to do more retail and museum environments. This now represents about 20% of our business. It's never boring in this industry with new projects and interesting challenges every day. Although there are days . . .
Trade Show Booth Design –  Selecting A Design
2. Do Exhibitors have to provide their won trade show booth design or is design included in the cost?
As along as the request is reasonable, the booth design is usually included. But, that's not always true on larger, speculative designs, where the design costs can run into several thousand dollars. Every exhibitor should be intimately involved in the design from the initial consultation to each revision. The exhibit designer should work in tandem with you and your vision.
3. Besides Island Displays, what other designs can exhibitors select when upgrading from a Pop-Up Display?
Wow, the possibilities are endless with the popularity of hybrid displays. It used to be considered a big jump when upgrading from an inline pop up to an island. Not anymore. An opening price hybrid offers exhibitors an upscale appearance at about the same cost as a full mural pop up would have about 8-10 years ago. And there are literally hundreds of design variations. Many assemble as fast as a pop up and are far more durable and modular. For the money, a hybrid will always be your best option for an inline display.
4. What factors are the most important to consider when an exhibitor decides to upgrade from a Pop-Up Display to an Island Display?
Most importantly, does it make sense for their image and for their budget? The bump from a portable exhibit to an island is more than just the cost of the exhibit. You have to factor in the booth space, shipping, I&D, drayage, etc. It's a big decision that should be based on the anticipated ROI, not just on a gut feeling. For many exhibitors, it does make sense. They need the additional space and capabilities that only an island exhibit can provide, such as meeting rooms, multiple workstations, A/V, demo or presentation areas, and in general, significantly greater visibility on the show floor. There's a reason that island booths are almost always busy, and inlines see an ebb and flow of exhibitors.
5. What are the advantages of purchasing an Island Exhibit over another booth display type?
One would hope increased traffic, but what the island exhibit really provides is increased options, such as those mentioned in the previous question. Island exhibits are the BIG DADDY at any show. Done right . . . they attract exhibitors.
6. What kind of a increase in ROI can an exhibitor expect when they upgrade from a Pop-Up Display to an Island Exhibit?
Honestly, while an island exhibit will attract more exhibitors, ROI is about pre, during, and post show marketing. Build it and they will come is no longer applicable. Studies have shown that most exhibitors study the show website and make plans early about who they will visit. They know their time is limited on the show floor, and they need to maximize it. Those companies that are aggressive about pre-show marketing bring exhibitors to their booth who are pre-qualified and educated. Lead follow-up is crucial. It can't be just a quick email. It has to be based on a plan or a campaign. Year after year, exhibitors claim that 75-80% of companies they meet with at a show never contact them. That's sad and embarrassing. And costly.
7. Are there any standard trade show booth display regulations (length, width, height, and weight) that exhibitors should be aware of?
Absolutely, most North American shows follow the same guidelines, which are different from the rules in Europe and Asia. Your show packet will have those guidelines. You can also obtain them from your local exhibit professional or here.
Wow! Thanks for all the great information, Mel. To read the 2nd installment of this 4-part interview, continue to Part 2- Trade Show Booth Design Tips.