Trade Show Marketing – 6 Pre-Show Tips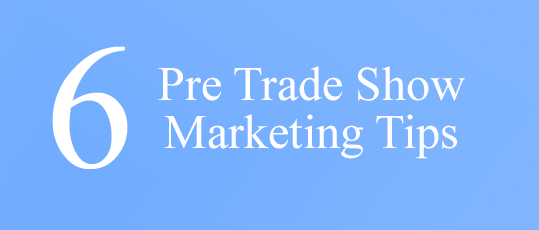 Trade Show Marketing – 6 Pre-Show Tips
Trade shows are an important marketing tool used by a variety of brands to reach out to their target audience and gain new sales leads. Many companies spend a good amount of time planning for the trade show by designing the perfect booth, hiring promotional models, and creating the most attractive signage. However, many companies are ignoring one very important part of the process – the pre-show!
According to TSNN, about 92% of trade show attendees go to trade shows to find the latest and greatest products on the market. So, it is important for brands to reach out to their target market prior to the show in order to lure them to their booth. Additionally, as many as <a href="http://www.freemanco click this link here now.com/freemanco/resources/printArticle.jsp?title=Building%20qualified%20booth%20traffic%20through%20targeted%20pre-show%20marketing&articleFilePath=/freeman/resourcecenter/assets/buildingQualifiedBoothTraffic.html&articleId=4″ target="_blank">76% of attendees decide ahead of time which exhibitions they plan to see. Of the approximately 26 exhibitions attendees check out, 3 out of 4 are pre-planned visits. Therefore, in order for companies increase trade show traffic and overall ROI, they should plan on spending some of their budget and time on pre-show marketing.
So, how should your company start pre-show marketing? What type of information is most effective for attracting people's attention and establishing interest? Check out the following tips and find out how your company can land a place on every attendee's agenda!
6 Pre Trade Show Marketing Ideas for Your Next Trade Show
Know Your Audience
This may sound cliché, but many companies don't spend enough time determining who is in their target market and simply promote their products or services to everyone. While this may help your team get rid of more of your promotional products, it will not result in the targeted, high-quality trade show leads your team is looking for. Instead, take the time to think about the trade show your exhibiting at and the type of consumers that will be attending it. Once your team has determined what type of audience will be in attendance, you can determine which type of consumers are going to be most interested in your products and/or services. After this is completed, reaching out to your target audience prior to the trade show will be much easier for your brand.
Be Active on Social Media
Media outlets are great resources for connecting with your target audience. Make sure you post, like, and remain relevant to anyone who follows your account! Also, be sure to follow the social media accounts of the trade show your brand is exhibiting at and the association that is putting on the show. Once you have followed them, like, share, and comment on any posts/pictures they create. You never know when if or when they will retweet or share your content with their followers – which will help to expose to you to a larger targeted audience and increase your overall reach at the trade show.
The more your company name continues to show up on social media in industry related discussions, the more your brand will build brand recognition. Social media is also a great way to promote your products by recording teaser videos, product demonstration videos, and pictures leading up to the event. Here are more tips on how to use social media at trade shows.
Get Listed in the Official Show Directory
Many attendees use the official show directory as their main resource for creating an agenda of the trade show booths they want to stop at during the show. Therefore, make sure your contact information is correctly listed in the trade show's exhibitor directory. Then, create a well-written description of who your brand is, what products and/or services you provide, and what makes your brand unique. Create a description that will jump out at attendees and get them interested and talking about your brand. Finally, provide teaser descriptions of the new products your brand will be introducing at the show, the trade show games you'll be hosting, and/or the product demonstrations you'll be providing.
Invest in Print/Digital Advertising
Potential customers that attend trade shows may have invested their time and money into purchasing industry journals and websites, so it doesn't hurt to invest some of your advertising efforts into print or digital advertising. Make sure your advertisement includes images of your products or services, contact information, and all of the trade shows you are attending throughout the year!
Have Your Public Relations Team Get You Involved
Any positive PR is good PR! Have your team reach out to all media outlets that might attract the attention of your target market. Anytime potential customers see your company or products, they become more aware of your brand. So have your team be proactive and do their best to build brand awareness. Your team might choose to submit articles to journals and websites, find a way to have posts written about the company on social media outlets, or get noticed on the trade show's website and social media accounts. Any effort put in before the event, can lead to interest and sales when the event arrives!
Invite People by Mail, Phone, or Email
Utilize your networks and personally invite people to come and see your booth. This can be time consuming, but the personal invitation is sometimes all it takes to get a potential customer to feel obligated to stop by your booth. Have your attended this trade show before? Consider reaching out to consumers who have showed interest in your products in the past and let them know what products you will be presenting at the upcoming trade show.
By following these tips, your company can build brand recognition and interest in your trade show booth. Don't let your company fall behind. Be proactive now with your pre-show marketing.