Brand Ambassadors – who are they and what do they do?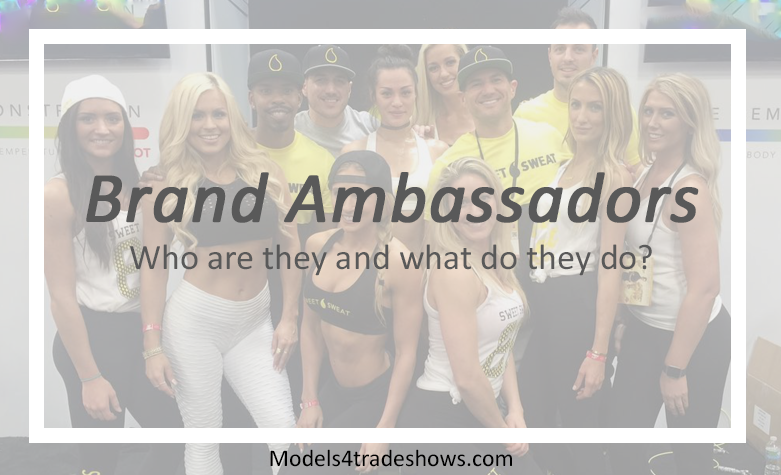 What is a Brand Ambassador?
The idea of branding has only been in existence since the 1870s, but from then it has rapidly evolved into one of the pillars that a majority of businesses rely on. While it started as a simple way of familiarizing consumers with a product and company, it has become a complex and mandatory marketing tool that helps connect a company to a certain lifestyle. By the 1950s, as America grew and consumed more, branding began to take on a larger role in most companies, and the role of brand ambassadors was born.
A brand ambassador is an individual who an organization hires to positively represent that company's brand, with a goal of increasing sales and awareness. This brand ambassador should epitomize the ethics, values, demeanor and appearance of the organization's brand. The brand representative might be an opinion leader in their community or they may just understand how to use promotional strategies to strengthen the consumer-organization relationship. While historically brand representation has been given to celebrities, more recently organizations have started to bring in brand representatives from different walks of life:Celebrity Brand AmbassadorsCelebrity brand ambassadorship began in the 1940's when cigarette companies hired movie stars to pose for their advertisements. The idea started to greatly expand during the next few decades, with stars like Bob Hope, Joe Namath and Bill Cosby being hired by the likes of American Express, Hanes and Jell-O. There have been extraordinary success stories with celebrity brand ambassadors, such as Omega's comeback with Cindy Crawford. And it makes sense, celebrities have large followings. Their fans like their style and want to duplicate it. Unfortunately, this type of ambassadorship is only possible for the giants of any industry. It is far too costly for any small or medium-sized business to budget for. However, there are some excellent alternatives that can be just as effective for a much lower price tag.Brand AdvocatesThis is on the other end of the cost spectrum for hiring a brand representative. Brand advocates are simply satisfied customers. They are the customers that had such a positive experience with an organization's customer service or product that they actively share it with friends. Some organizations will recruit brand advocates, while some customers just naturally fall into the position of brand advocate. They may send them free samples or other incentives to post on Facebook or tweet on Twitter; to share their positive experience with friends and then refer interested friends on to the organization and its products or services. While this method of brand ambassadorship can be free or minimally priced, it can also be a crapshoot. Maybe an organization will have a customer like the "Chewbacca Mom" who makes a viral video, or maybe they won't.Promotional ModelsPromotional models sit somewhere in between brand advocates and celebrity ambassadors when it comes to cost. These are individuals who are hired to represent the company or organization at events like trade shows and conventions. Their duties might include handing out literature, providing product demonstrations and conversing with potential customers. The promotional models are often chose for their physical attractiveness, as this trait is known to be an effective marketing tool, but high-quality promotional models will also put an emphasis on engaging with clientele, being knowledgeable about the product or service, and representing their company in a positive light.While celebrity brand ambassadors and brand advocates are more than helpful in marketing efforts, they are not a stable option for most businesses. The majority of organizations cannot afford a celebrity brand ambassador, and while brand advocates are often volunteers, they do not provide a sure-fire marketing strategy. Promotional models as brand ambassadors, however, can provide a major marketing bump without the exorbitant costs. The key to ensuring your business gets this marketing bump from its brand representatives is hiring the right personnel. But what does it mean to be a good Brand Ambassador? Here are some of the characteristics you should look for when picking out promotional models:Know the Basics. A brand ambassador does not need to have a degree in marketing. But they should have a basic understanding of who your company is marketing to, the image that you are trying to give off and the strategies that they can employ to best market your product or service.Be responsive. Yes, a brand ambassador's main job is to represent a brand or company to the public. However, they are also your front-line soldiers. They have boots on the ground. In other words, they are engaging with potential customers and hearing what they have to say. Customer comments, concerns, opinions and questions provide a valuable insight into a company's marketing strategy. Brand ambassadors should be able to gather this information and relay it back to the company in a meaningful way.Speak well. A brand representative shouldn't have too strong of an accent, they should use correct grammar and they should be able to speak confidently. If a customer cannot understand a brand representative, how are they supposed to trust them? If the representative sounds unsure when they speak, it reflects poorly on the brand. Communication is key to a brand's ambassador's success.When your brand is being represented in a trade show, product launch, festival, store opening or any other big event, you should make sure that it is represented well. While part of that is the tangible marketing materials you show-off and give out during the event, another very big part is the individuals you have representing your company. A good way to ensure that you put the right foot forward with potential customers is to work with professional brand ambassadors. Vantage Advertising is one agency that can provide highly experienced brand ambassadors and other staffing solutions for your event marketing needs. Contact us to find out how we can match you with well-trained brand ambassadors.