9 Things You Need to Know About Promotional Models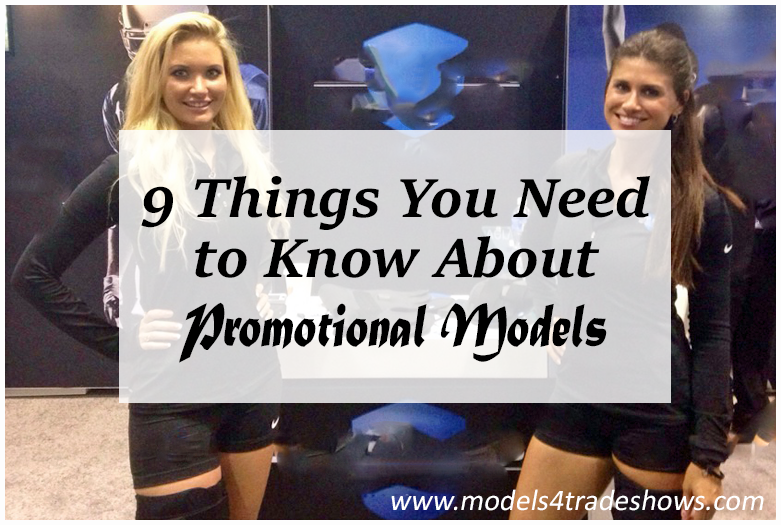 Looking for Promotional Models?
The use of promotional models has quickly become an important element in many small and large-scale corporate events, trade shows, parties, and other functions. But there are still a few companies who may not be totally familiar with what promotional models do and what benefits they offer. In this post, Vantage Advertising, a nationwide event staffing agency, will address nine of the most common questions about promotional models and the important role they play.
What is a Promotional Model?
Depending on the type of event, a promotional model is a person who represents your product, service, and company by interacting with potential clients and other guests attending an event. If required, promotional models will offer samples of what your company is selling or do demonstrations with your products.
What Types of Events do Promotional Models Work?
Promotional models can be hired to work a variety of events no matter the size of the event or the crowd. They are available for product launches, concerts, sporting events, corporate parties, liquor, beer, and wine samplings, music festivals, bike and car races, trade shows, and conventions. Their purpose is to market what you are offering (whether it's the event itself or a product at the event) and encourage people to familiarize themselves with your brand.  The cost of hiring models depends on the type of event, and their responsibilities.   Consequently the range of pay for promotional modeling services varies greatly.
What Makes a Promotional Model Good at What They do?
The best promotional models are individuals with several crucial qualities. They know how to dress to impress while maintaining their physical appearance as professional models. Aside from their physical features, they showcase their most appealing attributes; friendliness, attentiveness, confidence, and verbal communication skills. Lastly, a great promotional model will familiarize themselves with what you need to have promoted, will know the important details about it, and will be able to share this information with your target demographic and potential customers.
Why Should I Hire Promotional Models For my Event?
Promotional models bring life, energy, and humanization to your function with their positive energy and lively spirit. They offer critical personal connection by interacting with your guests and providing informative and engaging conversation. Having promo models at your event also allows you to spend more time networking with associates while they take on the role of small talk with potential clients and consumers. Lastly, promotional models can help set the tone of your event and enhance your brands attractiveness. They bring personality to your function and do so with flare and sophistication.
Interested in hiring promotional models?
We can provide you with pricing information and model availability.
How Are Promotional Models Better Than Other Forms of Advertisement?
While any company is certainly welcome to use multiple forms of advertisement for their event, promo models provide an edge: the human element. People do not enjoy being bombarded by advertisements such as billboards, commercials, and other marketing tactics. But using a promotional model is not a blatant advertising strategy. They offer real personal connection and humanize your marketing efforts, thus making consumers more receptive to what you are offering.  Don't forget, the cost of hiring a model can also be substantially less then traditional forms of advertising.
How Experienced Are Promotional Models?
When you work with a professional staffing agency like Vantage Advertising, the promo models you hire will come with experience in customer service, public speaking and sales. Because of this experience, they are able to maintain meaningful, flowing conversations with your guests, while concisely and clearly promoting your company and products. Professional models like this are very familiar with fast-paced, busy environments and know how to stay on their toes, full of energy, and maintain a professional demeanor.
Why do so Many Companies Hire Promotional Models?
Simply put, more and more companies hire promotional models because incorporating them into event's works. If you are at a trade show and you have printed literature about your company, a potential client is much more likely to read through that literature after talking to someone about it first rather than if you just had the literature stacked on a booth table. Promo models in this setting provide clients with basic information about your company, communicate the benefits of your products and manage the flow of traffic in and out of your booth.  They provide the human element and therefore give your brand an edge.
What Other Advantages Come With Hiring Promotional Models?
Promotional models instantly give your company and event a face lift. They bring in fresh energy and provide engagement with your guests, consumers, and potential clients. In addition to boosting the overall appeal of your event, they also eliminate a great deal of your stress. You won't have to spend all your time worrying about how you'll connect with people and feeling guilty about being unable to talk to everyone. With professional staff on hand, they will fill in the gaps for you.
How Will I Know What I Need When Hiring Promotional Models?
When you work with an agency such as Vantage Advertising, they will discuss all the logistics of your event so you don't have to worry about the little details. The agency will know just how many promotional models you'll need based on the size of your event and ensure that you get the best models for your unique needs. Let the agency handle the dirty work while you can focus on other matters to make your event a success.
For any additional questions regarding promotional models and their benefits, get a hold of us today. We are happy to discuss your event needs and provide information on all of our advertising services including promotional models, brand ambassadors, and event staff. Types of promotional models we offer include beverage models, car show girls, spokes models, flag girls, and convention models.