Trade Show Marketing: How to Sell to Attendees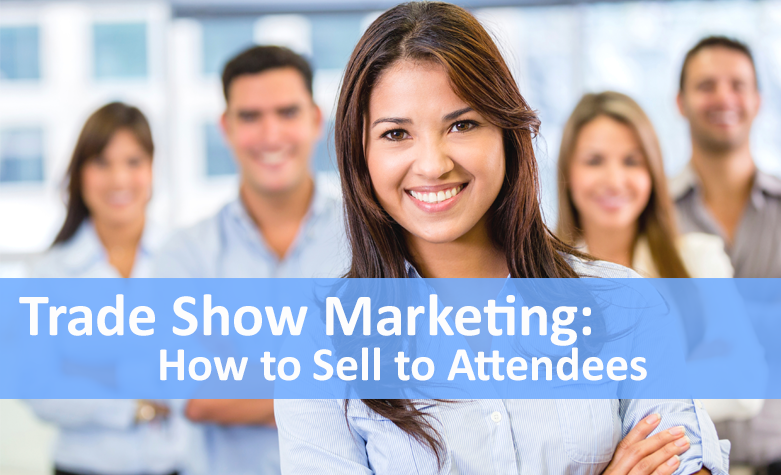 Trade Show Marketing: How to Sell to Attendees
When exhibiting at a trade show, trade show marketing and promotion should always be a top priority. Industry professionals are attending the show to educate, network, and build relationships which means they are open to learning about the products and services your brand offers, so it's important to get your brand in front of them.In 2013, TSNN found that 67% of trade show attendees can be seen as new prospects and potential customers. With trade shows attendance records on the rise this means that an encouragingly high percentage of attendees at these events are leads that can generate sales for your brand. But, in order to do so, your company should know exactly what trade show marketing tactics to use when making those sales.
Below we've listed a handful of tips about the dos and donts of selling your brand to trade show attendees.
Trade Show Marketing: Selling to Attendees – What to DoAsk Questions
Your sales team and trade show booth models should ask specific questions that are geared toward your product and the consumer's inherent need to own it. When the customer's own answers lead them to the realization that they need your product in their life, then it would be consistent in their cognition to buy!
Engage Build Rapport
When it comes to trade show marketing tactics that will make a difference for your brand, building rapport is one of them. Rather than jumping right into the conversation and bombarding the attendees walking by your booth, it makes more sense for your sales team to first create connections with the customers. When a relationship is established, it is natural for the consumer to show more interest in what you are saying and be more open to your suggestions.
Give Honest Quotes
Tell your consumers the honest price of your products and service and ensure them that the quote you give them is reliable. Companies that shift their pricing and make minor alterations after engaging with consumers about the contract price will lose trust and loyalty.Trade Show Marketing: Selling to Attendees – What Not to DoDo Not Low Ball
Low balling or similar tactics are not great strategies for making a sale. Consumers are aware of these techniques and it will most likely cost your company a sale. There are more effective persuasive techniques to utilize for closing a sale.
Do Not Talk Negatively About Another Brand or Product
Customers do not respond well to negativity. This type of comparison technique might seem like a company's last resort and will probably turn customers away from your brand. Instead, keep the conversation focused on your brand and the benefits you offer to your customers.
Do Not Be Overly Aggressive
There is a fine line in sales and trade show marketing between having energy and being aggressive. A good way to gage your trade show energy is by reading the attendee. What does their body language say? If they are backing away from you or looking away regularly it is possible that the vigor of your sales routine is too much. Slow your roll and let the attendee talk about their needs and what type of product or service they are looking for to solve their problems.
Sometimes subtle things can be the difference between a sale and a disinterested customer. Keeping these tips in mind will help to shape your sales process into a successful system that results in a positive ROI for your brand after every trade show exhibition.