Finding Parking & Locating Your Booth at McCormick Place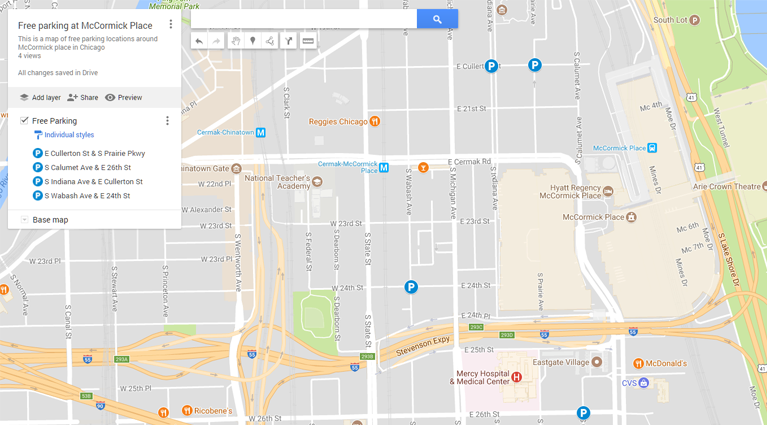 Working Trade Shows at McCormick Place
Working a trade show at a large convention center can be a bit nerve-racking, especially if you're not familiar with the location. I live 10 minutes from McCormick Place and have worked many trade shows in Chicago over the past 4 years. By the time you finish reading this guide you will know where to park (for free!), where to meet, how to sign in and how to locate your booth inside the largest convention center in North America.
Know what building your trade show is in:
When you are new to trade shows or a specific location, the best way to start is by going online and finding the map of the convention center . Since the McCormick Place has a few different buildings you will need to check out the events page to know which building your event is in; there are many times when two different conventions are going on at the same time and you don't want to be at the wrong one!
Parking at McCormick Place:
Parking is available at the McCormick Place Garage; Parking Lot A is the closest one to the North, South and West buildings, and costs $23 for the day. WARNING: There are usually only two gates active that will allow you to enter, so it could take you up to 15 minutes just to enter the parking garage, then another 10 minutes to find a spot and another 30 minutes to get your badge and find your booth. I recommended arriving an additional 30-45 minutes early when working at the McCormick Place just to get yourself situated and to familiarized with the building.
Where to find free parking (view map)
Cullerton St. & Prairie Ave. – This is a dead end street with free on the Prairie side (right side), the other side is permit parking. There are only about 6 free spots here.
26th St. & Calumet Ave. – Free parking near the McDonald's; just be sure to look at all the street signs first to see that you are not on the permit zone side.
Cullerton St. & Indiana Ave. – Free parking on the Cullerton side only, the other side is permit parking (see photo to right). Look up Soldier Field events to see if any events are going on at the same time of your work hours, if not then you can park there. Be careful when the Chicago Bears football seasons starts in August.
Dearborn St. & 24th St. – Free parking near Park No. 540; just be sure not to park on the sides where there's a big Public Notice sign. YOU WILL BE TOWED. I have had a few promotional friends who have gotten towed because they were in a hurry and didn't see the public notice sign posted. It cost them approximately $215 to get their car out, so you're basically working for free that day…
Wabash Ave. & 24th St. – Park by Ray Graham Training Center High School. Please note that some sides of the street are permit parking only.
SpotHero, Clark St. – Plenty of close spots for $5-$15 for the duration of your event. Be careful not choose the really cheap spot that says its "under the EL" (a.k.a under the train tracks) because oil will drip on your car and you will need a paint job.
Meeting Locations at McCormick Place:
The best place to meet your fellow promotional models at the McCormick Place is inside the front doors of the main building where the low water fountains are (on the right of Hyatt Hotel!)
Where to get your trade show badge:
In the registration section of the trade show, there will be an attendee side and an exhibitor side, you'll want to go to the exhibitor side. If the event is at the North Hall, then they will usually have the registration section in the South Hall which is directly across. However, if it's a smaller show then they will have it in the same hall right before the entrance.
Finding your booth:
Be sure to know your booth number; there will be huge sign listing the sections of each aisle (ex: 1800-1900). Head to your corresponding aisle and locate your booth.
If the company you are working for didn't tell you the booth number or if you forgot it, you can go to the main events website and check out a list of exhibitors. Enter in the company name you are representing and find the booth number from there.
Now that you can navigate The McCormick Place in Chicago seamlessly, be sure to read up on everything you can expect at your first trade show!