Working High Paying Promotional Tours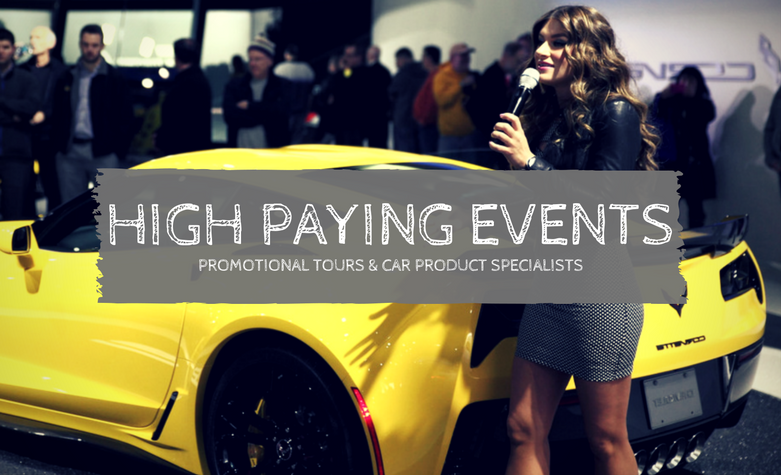 High Paying Gigs – Promotional Tours & Car Product Specialists
When you're talking high paying promotional events, you shouldn't be thinking Mom & Pop marketing and ad agencies. You should be thinking of working with the big brands directly and negotiating your salaries through solidified promotional modeling agencies!
While I was working as a promotional model in NYC, I was booked directly for three East Coast Panasonic promotional tours and one NYC Progressive Insurance event at the Jacob K. Javits Convention Center. Both these events paid upwards of a thousand dollars and I was able to book them directly with the brands themselves.  Now, these weren't normal gigs for beginning models. You had to be a high-level Brand Ambassadors to book these gigs. Hair, skin and nails had to be pristine, gym time was necessary and there were interviews so you had to be prepared. There was lots of money at stake, so the first impression was weighted heavily.
Let me tell you how I was able to land these two promo gigs.  I was working a routine promotion for a marketing company when I was secretly scouted by a Panasonic representative. You never know when an opportunity is going to arise so always be prepared.  I was chosen with three other Brand Ambassadors to conduct a first-time 5-city promo tour.  This particular tour came with paid hotel accommodations. Shortly thereafter, it became a 10-person traveling tour with a residency at the US Open.
The Progressive Insurance gig at the Javits Convention Center was the same type of event. This trade show had its production done on a grand scale with a vibrant set. Set-up and breakdown was part of the tours and this was done by background workers.
Both of these events generated thousands in revenue for the brands, marketing teams and the Brand Ambassadors. We all worked together to produce a fabulous event! This can be you too!
In addition to promotional tours, working as a Car Product Specialists representing different automotive brands is also a pathway to high paying promotional events. These types of gigs are sometimes salaried and can come with benefits and accommodations. They are wonderful jobs for young models who want to travel across America with little to no direct expenses. Remember to stay focused and apply to higher paying jobs to see if you're eligible. Booking these types of jobs could make the difference between becoming a brand yourself or getting lost in the crowd. Good luck!