Top 5 Things to Look for in a Promotional Agency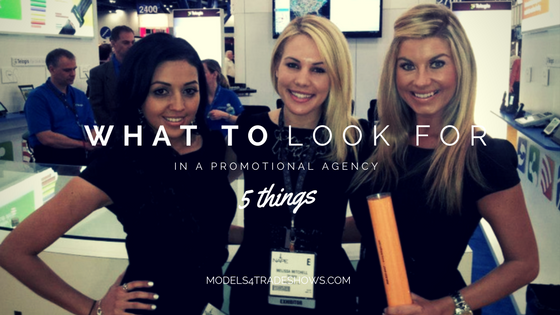 So you just started your promotional modeling career, and you are a go-getter, signing up with all of the different agencies. After a quick Google search, you find 37 million results. Where do you go from there? What should you look for in a promotional agency? Here is a list of some of the things you should look for in a good agency:
1. Is it an established company?
If a company has been around for 10+ years, chances are you would have heard from someone else in the field if they had shady work tactics, or if the company went out of business or changed it's name every few months. Those promotional agencies that are established in the industry have staying power due to their work ethic, great staff and quality of jobs that they are booking.  An established event staffing company will also have a physical address, website and proper way to contact them.
2. Are they licensed?
 Promotional agencies are required to be licensed and bonded.  Make sure to ask. All agencies are required to have a business license to operate.
3.What are the pay rates?
 Always inquire about the rate of pay before the event. Also keep in mind additional expenses such as travel, per Diem for food, etc.  Make sure you have a contract for the event, with all of the pertinent details.
4. What is the time frame of the pay periods?
 Sometimes an agency pays weekly, other times you wont see a check until 3 months down the road. Ask about when the job will be paid if that is a concern.
5. Are they professional?
With so many different agencies across the country, different levels of professionalism will exist.  Take note of email etiquette, how they answer the phone, the check-in procedure, etc. Your time is just as important as anyone else's, and you deserve to be treated with respect. Recommended For You