How to Avoid Trade Show Presentation Mistakes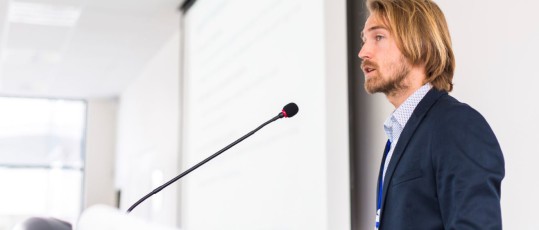 How to Avoid Trade Show Presentation Mistakes
Trade show presentations have a way of putting on the pressure and turning up the stress- especially at huge technology expos like E3 or CES. Anyone involved in this industry understands how much time, energy, and lack of sleep goes into planning, preparing, and pulling off a presentation at a huge trade show.
So, for those of us in the trade show industry, it's not really a shock that Michael Bay had an on-stage meltdown during Samsung's CES press conference yesterday. In fact, we shouldn't blame him. Instead, what we should blame is the poor planning and execution that made Michael Bay feel so uncomfortable that he felt forced to walk off-stage.
To avoid trade show presentation mistakes at trade shows, like Michael Bay was forced into yesterday, follow these tips.
10 Tips for Avoiding Trade Show Presentation Mistakes
Where better to start than at the top of the list and work our way down?
1. Plan for the Worst
During a live presentation, anything can happen, literally ANYTHING! So, take the time to walk through every negative situation that can occur during the presentation. You won't be able to plan for everything- but, by reminding yourself and your event staff that mistakes can and do happen- you'll be ready to react when it does.
2. Have a Back-up Plan
Walk through a number of worst case scenarios, and then create a list of possible solutions for them, so that if they happen they can be fixed immediately.
3. Relax the Night Before
Give yourself and your trade show team the night off before the big presentation. Do what you need to do to relax your body and mind before the big show.
4. Practice, Practice, Practice
While this seems rather obvious, you'd be surprised how many speakers don't practice their speech before the big trade show presentation. Gather a group of friends and family together and present in front of them. Encourage them to ask questions to help you learn how to prepare answers on the fly. If you're working with a trade show event staffing team, try your best to get everyone together and practice their roles beforehand. This will not only help everyone feel more confident about their roles, but it will allow your team to practice working together before the big presentation.
5. Take Public Speaking Classes
No matter how experienced you are as a speaker, take the opportunity to freshen up your skills by taking public speaking classes to remind and teach you public speaking tricks. Speaking in public isn't easy- don't make it harder by not providing yourself with the right tools.
6. Hire an Experienced Trade Show Staffing Team
Executing an amazing presentation starts by hiring a trade show staffing team. Surround your presentation with experienced and qualified trade show and promotional models that know how to avoid and correct presentation blunders.
7. Don't Give into Fear
Despite your efforts to make sure everything runs smoothly, something will go wrong. But, your job as a speaker to is to remain calm, address the issue, and correct it.
8. Don't Let the Audience Know Something Went Wrong
One of the worst things you can do as a speaker is to let the audience know that something has gone wrong. The minute they become aware that something is wrong is the same minute you've lost their attention. They no longer care about what you have to say- instead, they are focused on the error. Curiosity consumes them.
9. Use Improvisation
One of the best ways to avoid the audience from finding out that something has gone wrong is through improvisation. Whether the teleprompter and/or ear promoter stops working or any unexpected situation occurs behind the scenes- ad-lib your actions until the error is corrected.
10. Have Fun
Finally, remember to have fun. If you're involved in a trade show presentation for any reason, you must be knowledgeable on the topic and find joy in it. So, allow your passion to take over during the presentation. Listen to the questions that are being asked, engage with your audience, and remember to have a great time! The more you're enjoying the presentation, the more your audience will too, and the least likely mistakes will affect you.
With the help of an experienced event staffing team and proper trade show preparation, I truly believe that anyone can avoid mistakes during a trade show presentation by following these 10 tips. What other tips do you use to help you avoid trade show presentation mistakes?
Not sure where to find a reliable, professional, and experienced trade show team for your upcoming trade show presentation? You're in the right place! Vantage Advertising staffs dependable and specialized trade show models, promotional girls, and event staff for trade show presentations and so much more! Contact us to learn more about how to hire event models for your next trade show or promotion presentation.