5 Tips to Keep Event Staff Energized at Trade Shows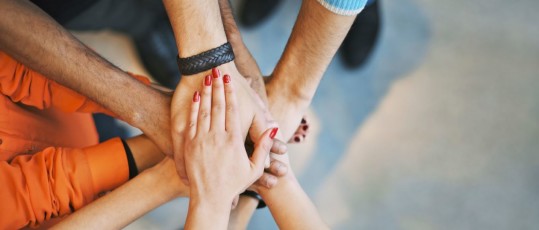 5 Tips to Keep Event Staff Energized at Trade Shows
Keeping your employees motivated during the average work day can be hard enough, let alone asking them to stay motivated, energized, and talkative for 10 hour days at a trade show. But, in order to collect quality trade show leads and hit your sales target, your team MUST stay energized and excited about your brand. So, what can you do to keep your event staff on point and animated throughout the duration of the trade show?
Below, we've compiled a list of 5 ways to keep your trade show event staff energized during trade shows.
How to Keep Your Trade Show Event Staff Energized & Motivated
Morning Trade Show Meetings-
At the start of each trade show day gather your event staffing team together and review the overall goals that your team has set for the trade show. Then, make sure that every member of your event staff understands what their role is and how their effort contributes to the overall goal. You can also use these morning meetings as a time to address issues, solve problems, and as a time for event staff to answer questions. By scheduling meetings at the beginning of the day instead of at the end- your team is more likely to address any issues they have come across and correct any mistakes they are making.
Friendly, Internal Contests-
Another way to keep your event staffing team working hard and staying animated is by incorporating a friendly, internal contest. Whether you want your team to focus on collecting quality trade show leads or selling products- encourage positive productivity and competition amongst your event staff by rewarding employees that produce the best results with a small prize. This system generally works well when small prizes are rewarded every day and a larger prize is rewarded on the last day of the trade show. Whatever your method, friendly, internal competition is a great way to keep your trade show models and staff motivated and working hard for your brand.
Rotate Event Staff Positions-
By rotating positions amongst your event staff, team members are less likely to get stuck in a groove and have feelings of fatigue. Rotating your event staff can also help your team learn which members thrive in each position and lead to an increase in the overall quality and quantity of leads and sales.
Encourage Comfortable Clothing-
Shoes can quickly become a constraining and (painful!) motivation killer when it comes to keeping your event staff energized. To avoid this situation, encourage your team (especially the women!) to wear shoes that they are willing to stand in all day. It is also important to select clothes that are comfortable and easy to move around in on the trade show floor. If you're team is selecting their own attire, provide them with tips on what to wear at a trade show to avoid comfort issues.
Give Plenty of Breaks-
I understand that time is money- especially at trade shows- but, nothing will cause more fatigue and lack of motivation then a lack of sufficient break time. Breaks are especially important at trade shows that have long hours because it allows your team to recharge and energize themselves for the rest of the day. Finally, don't forget that you deserve a break too! Give yourself the necessary time to rejuvenate and it will do wonders for you and your team. Always remember: The better you treat your trade show team, the better your trade show results will be!
As event planners, we understand that a lot goes into organizing, planning, and executing a successful event. Sometimes there is so much to focus on and remember that we forget about one of the most important aspects of the event, our event staff. However, the event staff is a huge part of our trade show effort and the forefront of our brand. By focusing more of your energy on your event staff and keeping these tips in mind, you are sure to see an increase in positive energy and overall success rate of your event. What other methods do you use to motivate your event staffing team?
Interested in hiring trade show event staff for your next trade show or promotional event? Contact us to get started!