Trade Show Marketing Friday – Cut Event Costs by Hiring Promo Models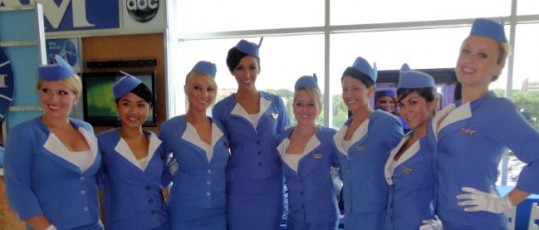 Trade Show Marketing Friday – Cut Event Costs by Hiring Promo Models
Welcome to the first edition of Trade Show Marketing Friday. Each week we will post an educational and informational trade show marketing idea for all you event planners out there!
Have a trade show marketing idea you want us to discuss? Let us know!
This week we're all about helping event planners save money! Here are 5 reasons hiring promotional models saves you money.
Trade Show Marketing Idea: How Hiring Trade Show Models & Promo Girls Saves Money
1. No Travel Costs:
Hiring local promotional models and event staff cuts event costs because promo models are local to the area. You don't have to worry about food, lodging, or transportation costs. Hiring local trade show models also helps you to save money because, when you hire promotional models to help work at your booth, you need less company members, cutting your costs even more.
2. More Bang For Your Trade Show Marketing Buck:
Take pictures and videos of promotional models running the booth, interacting with attendees, and genuinely having a good time. Then upload the trade show marketing content to your website, blog, and social media pages. Continue to promote and use this content for weeks, months, or years to come. Not only will it save you on future trade show marketing costs, but videos and pictures are shareable content that will continue to bring leads. For more ways to integrate social media at your trade show booth read: Using Social Media at Trade Shows- 5 Tips You Can't Ignore.
**Disclaimer- Always ask permission (get written permission if necessary) before including any promotional model in your marketing materials.
3. Targeted Audiences:
Promotional models and trade show talent help to cut costs on events because they are equipped with the skills necessary to attract a particular audience. Bilingual models are perhaps the best example of this because they have the language capability of interacting with double the number of attendees, doubling your team's productivity.
4. Increased Productivity:
Promotional models have years of experience in the event staffing industry, so they know how to efficiently and effectively target audience members and turn them into sales. Having just one experienced trade show model at your booth is like having two salespeople.
5. Increased Networking Opportunities:
Finally, with trade show models and booth models taking care of your booth you and your team have the opportunity to network with more clients and educate yourself on what other companies are doing in the industry.