5 Tips on Hiring Promotional Models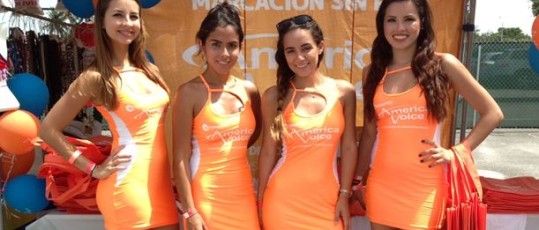 5 Tips on Hiring Promotional Models
You've attended numerous trade shows, conventions, expos, and special events. You know how to choose the right tablecloth, lighting, and booth location to increase your ROI. You're an expert, a real expert. And then your Marketing Director throws a curve ball at you. She says, "Hire a trade show model."
Hiring the right trade show model can be daunting, but we're here to help. Below, we've outlined the basics on how to hire promotional models for your booth.
5 Tips on Hiring Promotional Models
1. Know Your Venue:
Where is your event taking place? Is it indoors, or outdoors? What type of attire will be worn at the event? Ask yourself these questions before the event so you have an idea of what type of attire you would like the model to wear.
Trade show Tip: Leave the short-shorts and provocative attire for liquor, bar promotions, and outdoor events. For trade shows, conventions, and expos we suggest that the models wear business professional, or business sexy attire.
2. Keep Your Booth In Mind:
Do you want a professional, composed booth, or a unique, adventurous one? If your booth is the latter, than hiring the right promotional model may mean hiring a costume model. This idea works great for themed booths, outdoor events, car shows, golf tournaments and drag races.
Trade show Tip: Be sure to keep your booth size and staff in mind. How many promotional models will you need? Do you want him or her to stand out, or blend in with your sales team?
3. Keep Your Audience In Mind:
Who are you trying to reach? Male and female promotional models typically produce better results when they are familiar with the trade show, or promotional event they are working. Bilingual models work well in environments where they can interact and relate to the attendees based on culture and language.
Trade show Tip: When hiring the right promotional model, be sure that the promotional model can successfully relate and engage with your attendees.
4. Keep Your Goals in Mind:
What are you trying to accomplish? How experienced does the promotional model need to be?
Brand Awareness: If you need a group of models to attract attention to your booth and help pass out promo items, then hiring booth assistants or booth hostesses is the right move for your team. These models should be bubbly, outgoing and personable. For outdoor events, this group of models is known as a street team.
Lead Generation & Sales: If you're interested in hiring a promotional model to drive quality trade show leads to your booth, then hiring a traditional spokes model is what you are looking for. He or she should have the knowledge, skills, and experience to help you attract, and sell your product to your ideal customers.
5. Convey Your Answers To Your Modeling Agent:
Finally, don't forget to keep your event staffing company in the loop. Explain to them exactly what you are trying to accomplish and they will help you hire the right promotional model.