How to Drive Quality Trade Show Leads to Your Booth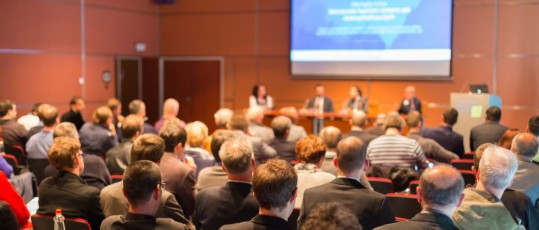 How to Drive Quality Trade Show Leads to Your Booth
Anyone with a badge scanner and social skills can collect hundreds of trade show leads for your brand. But, who are those leads? Do they know anything your brand? Are they even qualified? In most cases, obsessively scanning badges to increase your trade show leads will only result in wasted time and energy for your Sales Team as they sort through the pile of unqualified leads after the show.
Instead of putting your Sales Team through the ringer, generate new business for your brand by focusing on collecting quality leads instead of quantity. But, that's easier said than done. How can brands, like yours, drive high quality trade show leads to your booth?
5 Ways to Drive Quality Leads to Your Trade Show Booth
1. Live Product Demonstrations –
Hiring a product demonstrator to run a product demonstration at your booth is a great way to drive traffic (and new business!) to your brand while also weeding out those unqualified leads. How? Because qualified leads are actually interested in learning more about your brand are more likely to stay at your booth to watch the demonstration. They are also more likely to ask questions, get involved in the conversation, and stick around afterwards to discuss your product and brand with one of your team members. Video demonstrations are also a unique way to drive high quality traffic to your booth. However, unlike live demonstrations, video demonstrations do not have as many opportunities to interact or engage with your audience.
2. Live Presentations –
Similar to product demonstrations, live presentations also attract high quality leads to your booth because they attract leads that are interested in learning more about your brand and interested in engaging in educated discussions about it. The attendees that stick around for your live presentations the leads that your team wants to target and the badges they want to scan. Encourage your booth hostess / greeter to scan each attendee's badge during the presentation and engage in conversation with them about your brand.
3. Exhibit at Shows Your Target Audience Attends –
Just because you're in the car show industry doesn't mean that you need exhibit at every show. Instead, take the time to analyze your marketing strategy and the attendee demographics of each show. Determine which trade shows your target market is attending and how many of them will be at each show. Then, select trade shows whose rosters bring in the highest numbers of your target audience.
4. Advertise Your Show Presence –
Once you've decided which trade shows will be the most profitable for your brand, take the time to advertise your brand's presence at these shows. Write content about it on your blog, share your excitement for the show with your social media followers, like and follow your targeted leads on social media, and send an email newsletter to your clients letting them know you'll be at the show and how they can find you. By advertising your presence at a trade show prior to the event, you will not only encourage current clients to find your booth, but you'll be driving new quality leads to your booth as well.
5. Hire High Quality Event Staff –
Another way to generate high quality trade show leads is by hiring a team of highly experienced trade show professionals to man your booth. Why? Because trade show event staff have years of experience in the field, so they know the difference between a high quality lead that is actually interested in your brand and a cold lead that is only interested in winning a contest or prize. But, where can you find a knowledgeable team of trade shows event staff to help drive high quality leads to your booth? Start by hiring experienced trade show models and promotional hostesses from an event staffing company.
So, there you have it, 5 ways to drive high quality trade show leads to your booth. By incorporating these strategies into your trade show marketing plan your brand is sure to see an increase in booth traffic and high quality trade show leads. What other methods do you use to attract high quality trade show leads to your booth?