How to Use Twitter at Trade Shows to Promote Your Business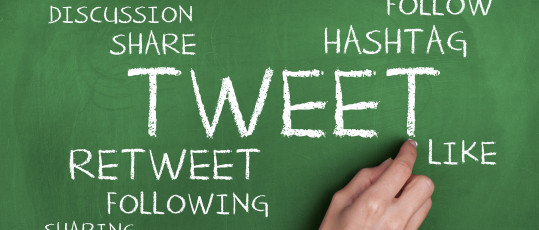 How to Use Twitter at Trade Shows to Promote Your Business
Using social media at trade shows is one the easiest ways to introduce and showcase your brand to a group of highly qualified trade show attendees. But, in order for social media to provide impressive results for your brand, you and your team must know which social media tactics to use to effectively promote your brand. Twitter, by far, is the most popular and most important social media website to use at a tradeshow. By effectively incorporating Twitter into your trade show marketing efforts, your team is sure to see an increase in lead generation and sales. Let's learn how.
How to Use Twitter at Trade Shows to Promote Your Business
1. Use the Event Hashtag –
Every trade show and promotional event has an event hashtag. The event hashtag helps to collect the conversation surrounding the event on social media and streamline it into one place that is easily accessible by attendees, exhibitors, and industry enthusiasts. By including the event hashtag in your brand's tweets, it adds your brand to the conversation and increases your brand awareness and visibility within the show. You can also use the event hashtag to help answer attendee or customer questions, generate customer interest in your brand, find interesting content to share with your fans, and connect with industry leaders and customers.
2. Create Your Own Event Hashtag –
Along with incorporating the event hashtag in your trade show tweets, consider creating your own event hashtag. By creating a fun and personalized trade show hashtag and using it with the event hashtag, your team will stir-up attendee interest in both your brand and your unique hashtag. And, you never know, your personalized hashtag might be popular enough to go viral!
3. Run a Contest –
Creating your own event hashtag works especially well if your brand wants to run a trade show booth game or contest. For example, #FindVantageModels is a fun hashtag that includes the brand's name and promotes the company's services and contest. When selecting a hashtag to promote your trade show booth contest, make sure it is unique and peaks attendee interest.
4. Use Trends Feature –
Use the trends feature to see what's popular on Twitter and incorporate those terms into your tweets. This feature is especially effective if your team is exhibiting at a big trade show or event such as CES, E3 Expo, or SXSW. By using the trends feature, your brand can discover what other words and phrases (besides the event hashtag) are being used to discuss the event. And while the trends feature may not work as well for smaller trade shows, it's still a great resource to see what's popular on Twitter and integrating those topics into your tweets (if applicable).
5. Share Visual Booth Content –
As we all know, visual content gets the most attention, clicks, and engagement on social media. So, why not use this to your advantage? Encourage your trade show event staff to take photos while on the trade show floor and post them on Twitter with both the event hashtag and your brand's personalized hashtag. Not only will your tweets reach a larger audience and receive more attention, but they will also help attendees to associate your brand's name with your team's face, booth, and logo.
6. Tweet About Trade Show Event Happenings –
Use Twitter to help share live trade show event happenings with your followers. This allows your brand to reveal unique and exciting aspects of the trade show to attendees, exhibitors, and industry enthusiasts before the media does. Add a visual to your tweet to reach an even larger audience.
*When reporting live trade show event happenings, be sure your team relays the information as accurately as possible.
7. Watch Your Competitors –
While this Twitter tip does not directly promote your brand, keeping an eye on your competitors' tweets can give insight about what type of brand promotion works well and what does not. Compare your competitors' results to your own to determine which type of Twitter promotion performs the best at trade shows. Then incorporate them into your strategy!
8. Build Brand Awareness –
By staying active and involved on Twitter during the trade show, your team has the ability to increase brand awareness and reach. The more conversations your brand is involved in on Twitter, the more visibility your brand receives from attendees, exhibitors, and industry enthusiasts.
9. Increase Trade Show Networking –
Along with building brand awareness, Twitter can be used to promote your brand through its ability to increase networking. By promoting your brand both online and off, your team will double your brand visibility and attendee interest at the show, which ultimately leads to increasing your network, lead generation, and sales.
10. Follow-Up with New Followers & Attendees –
Finally, use Twitter to follow-up with trade show attendees that became new followers during the show and attendees whose contact information your team collected. By following-up with attendees and potential customers post-trade show your brand build strong relationships with your customers and increase your chances of being remembered.