6 Ways to Increase Trade Show Booth Traffic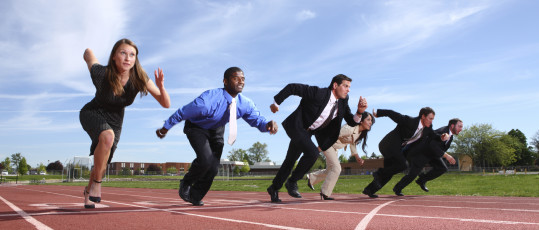 6 Ways to Increase Trade Show Booth Traffic
Are you a first time trade show exhibitor that is concerned your booth won't receive enough attention at your upcoming trade show? Don't worry; you're not the only one!
Getting your booth ready for a trade show is no easy task. It takes time, planning, and a lot of hard work.  And, like you, most exhibitors don't want to put in the time and effort if the trade show doesn't produce the necessary results. So, how can your team increase trade show booth traffic in order to hit the numbers you need?
To help increase your trade show booth traffic, we've listed 6 marketing tactics below.
6 Simple Ways to Increase Trade Show Booth Traffic
1. Music – 
Incorporating sound in your trade show booth is a fun and easy way to attract trade show booth traffic. Music will not only entice attendees to your booth (to see what all the fuss is about!), but it will also create an ice breaker and a conversation starter between attendees and your booth staff.
While music can be an important factor into your trade show exhibit, it can also draw people away from your booth. So, before incorporating music into your trade show booth, consider the following.
Things to consider:
• The Location and Venue – Will adding music to your booth help or hinder the ability of attendees to notice you? Incorporating music at a small venue with only a few exhibitors may help to attract attention, but it may also become overwhelming to attendees. Meanwhile, booth music at a large trade show might add to the overall 'trade show noise' and become unnoticed by attendees, or it may be the reason a crowd of excited attendees gathers. However, for outdoor events, music is usually a great way to attract attention and get attendees excited about your booth.
• Your Target Audience – Consider your target audience and what type of music (if any) will attract them to your booth. By taking the time to research your target audience, understand their culture and their musical likes and dislikes- music can be a wonderful addition to your booth.
• Booth Atmosphere – Finally, when it comes to incorporating music into your booth, you must decide what type of atmosphere and first impression your booth is trying to make and choose your music accordingly. If your focus is to interact with attendees and get to know them in a one-on-one setting, then soft, calm music is your best bet. But, if you're trying to create a loud, exciting, and boisterous booth, then intense, high energy music is what you should go for.
The incorporation of music at your booth, if done properly, is an easy way to increase your trade show booth traffic! For more information on incorporating music into your trade show booth read our blog: How to Create an Atmosphere At Your Booth.
2. Use Social Media –
Before you even get to the trade show, use Facebook and Twitter to connect with your followers! Let them know what events your company will be attending, where your booth is located, and what attendees can expect from your booth! Then, during the trade show, keep your followers up-to-date with event photos, and information on upcoming, giveaways, games, presentations, and demonstrations! After the trade show, follow all of the attendees and thank new and old followers for participating both online and in person.
BONUS: Be sure to incorporate the event's hashtag(s) into your tweets and status updates as a way to add your company name to the conversation surrounding the event. Not only will this increase your brand awareness, but it will also attract more attendees to your brand and trade show booth.
3. Interactive Trade Show Exhibits –
With so much competition at a trade show, it's easy to blend in with the crowd. But, by making your trade show booth exhibit interactive, your company is sure to stand out. For example, designing a trade show booth exhibit that physically represents your brand is a great way to get attendees talking about you and attract them to your booth. However, if you're working with a smaller budget, you can still make your trade show booth exhibit interactive by incorporating iPads, tablets, or other touch screen computers displayed throughout your booth. Each iPad should display and incorporate some important aspect of your brand, such as company information, fun facts, or an interactive game.
For even smaller budgets, make your trade show booth exhibit interactive by incorporating trade show booth games, presentations, or booth demonstrations.
4. Trade Show Booth Models –
Hiring trade show models and promotional models is an easy way to accent your information and increase traffic to your booth. Why? Because trade show models and promotional girls have years of experience working at trade shows, are professional, and very attractive.
Their physically beauty is what initially attracts attendees to your booth, but their professionalism, intelligence, and their ability to close sales is what keeps attendees at your booth asking questions, and purchasing your brand and/or service.
Worried about cost? Don't be! Hiring trade show models and promotional models isn't as expensive as you think. Contact us for a free quote request!
5. Product Demonstrations –
Another way to increase trade show booth traffic is by incorporating product demonstrations. During product demonstrations, attendees have the opportunity to visually see your product in action, ask questions about it, and sometimes have the ability to interactive with it. Seeing really is believing, and booth demonstrations are a great way to impress and convince attendees into purchase your product.
BONUS: To attract even more attention to your booth, try pairing product demonstrations and trade show hostesses. Trade show hostesses will know how to effectively present and market your product to attendees and help to increase your booth traffic and sales. Plus, trade show booth hostesses aren't afraid to be in the limelight!
6. Booth Presentations & Games –
Finally, to increase trade show traffic at your booth, try incorporating trade show booth presentations and games. Not only will the presentations and games help to attract a large group of attendees at your booth, but they can also be used to educate attendees about your product and/or service and answer any questions about your brand.
Booth presentations, in particular, are a great way to not only attract attendees to your booth, but also weed out unqualified trade show leads from highly targeted qualified trade show leads.
By incorporating some, or all of these marketing tactics into your trade show booth, you are sure to increase your trade show traffic and produce the leads and sales numbers your team needs. What other marketing tactics has your team used to increase trade show traffic at your booth?