How to prepare promo models for your event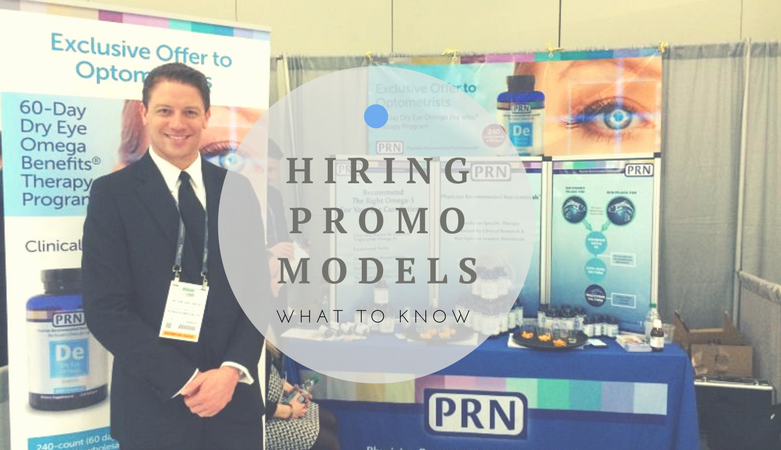 How To Prepare Promo Models for Your Event
So you've just hired promo models for your event, Congrats! The hardest part of finding the talent to represent your company has been completed. Now you can begin to prepare your promo models for having a great event! Don't know where to start? Don't worry, we've got you covered! Check out some of these tips below:
Tip #1 – Provide your promo models with a brief history of your company or brand.
While it may sound redundant, to explain the history of a company, or brand, you'd be surprised that even with well known companies and brands, how many people don't know the history and background of the very own company they work for! Doing research yourself and making sure you present accurate information, dates, and names to your promotional models will make them feel much more at ease on the trade show floor. You want to educate your promo models well! Provide them with printed information packets, power point presentations, or even a corporate training video. Remember your models are interested in learning about your company, and want to make themselves look great out there! The less information you give them, the less confident your models will look and feel.
Tip #2 – Explain the mission, image or objective for your event
Now that you've shared your company or brand's history with your new promo model, now you can get into the specific details of your event! What is the goal, image or objective of your marketing effort? What audiences is your company, product, or brand appropriate for? It is very crucial that you provide your models with the correct information, again don't just assume your model has used your brand, been to your company before. Explain the importance of this event, trade show, or street team promotion. What is the goal? Is the sole purpose to attract new clients, or certain types of clients? To reach a new city or community? To demonstrate a new product? I recommend speaking directly and having clear, written information about your specific brand's mission, image, and objectives with each promo model before the event. I would also do this for every event, or launch, as every event may be different, and a company's objectives could change. Even if you've worked with your promo models in the past, make sure they are up to date with everything!
Tip #3 – Provide your models with a first hand product demonstartion
You want your promo models to feel very comfortable and confident when speaking, pitching, or demonstrating your brand in public. Why not invite your model in for a tour of your company, and have them shadow you? Or teach them personally how to use the product? Can they demonstrate it correctly? Almost like a rehearsal or test prep run. You want your next upcoming event to run as smooth as possible. It's easy for a new promo model to get flustered on the spot perhaps competing with large crowds, limited time, and background noise. You want your promo model to have their information, and materials all ready to go! Don't be afraid to practice this with your model, take this into account financially, and time wise. Perhaps introduce them to models that have previously worked with your company, as a mentor. While this may be difficult to schedule with a hundred promo models, hold group training and information sessions!
Tip #4 – Set clear expectations for your event
Again, make sure you have a verbal and written conversation of what the expectations are of each model working for your company, and at each event. Discuss with the model, what type of behavior is appropriate? What is the dress code? Where, and How long they will be working? Is the event indoors, outdoors? Nearest transportation or provided? Meal breaks? Will they also have to setup and break down? Will there be any VIP's stopping by? You and your promo model want to be on the same page, to avoid any confusion. Often these little things get overlooked, and these all make the difference! You should inform you model well in advance of the specific details and expectations, so that there's no shocking surprises for either of you! Make sure you provide each promo model with an emergency contact, phone, email and address with them the day of an event. Provide your promo model, with business cards or post cards, if prospective clients have questions. You don't want to put all the pressure on your promo model, they will be able to answer many questions, but perhaps not every question the public asks!, Being able to provide them with the appropriate contact information, will make it much easier for them to focus on their duties, should questions or concerns arise.
Tip #5 – Prepare a binder of marketing materials for your models to review.
It's great to have a Plan of Action book that the Promo model can have with them at the event! A binder, with all of the information with the necessary steps, materials, and contacts that will be needed for the event. This should be updated and double-checked for each event. Break it down by time, insert pictures, and highlight the most important tasks. Start from the very beginning with a timeline to the very end of the event. You're promo models will have a lot on their mind during the shift, mentally and physically they need be aware and prepared. Trying to look through past emails, or constantly be texting on the job is distracting to others and looks unprofessional. You can also do a follow up with your promo models, of how they thought the event went! Either by written or verbal response. It's great to see what could need improvement by either you or your models, and if that event was helpful for your company.
I hope these five tips will help prepare you and your promo models for a great event and relationship! With great time and effort put forth, great results will appear. I wish you all the success!