Trade Show Marketing Friday: 5 Reasons to Hire Event Staff through an Event Staffing Agency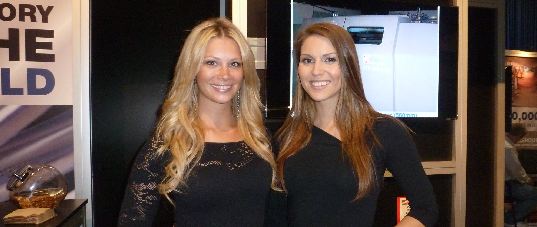 Trade Show Marketing Friday: 5 Reasons to Hire Event Staff through an Event Staffing Agency
A very happy Friday to everyone! You know what that means; it's Trade Show Marketing time! With summer quickly (and sadly) coming to an end, we have a ton of fall trade shows and events to look forward to! For a full list of upcoming trade shows and events in your industry, please visit our trade show directory. This week our post will focus on why companies should hire event staff through a reputable staffing agency.
Reasons to Hire Event Staff Through an Event Staffing Agency
1. Get Exactly What You Want
When you hire event staff through an event staffing agency, your models will be hand selected to meet your event standards. From hair color to experience level, all of your staffing needs will be met. In this way, your event staff will match your brands image and meet your company's staffing needs.
2. Staff is Ready and Waiting
Nationwide event staffing agencies have models and talent in cities throughout the country waiting to be booked. With such a long list of people waiting for jobs, it is easy to find staff in all major cities, whether you are local to that area or not.
3. Event Staffing Agencies Have Extensive Event Experience
Event staffing companies staff events every single day. Because of this experience, staffing agencies can help you decide what type of staff is most appropriate for your event. Whether it is a street team or booth greeter, event staffing agencies will advise you on hiring the best staff to fit your promotion and make your event a success!
4. Eliminate Stress and Worries
From contacting models to coordinating times and outfits, event staffing agencies will communicate all the necessary details of the event to your staff. In addition, event staffing agencies can distribute training materials and product information prior to the event. Thus, ensuring your staff is fully prepared when they arrive on site the day of the event. This eliminates the stress of organizing staff and allows your company to focus on planning the event.
5. High Quality Professional Talent
Finally, event staff hired through reputable event staffing agencies are experienced and professional. There is no need to question whether the staff will show up on time or if they will look like they do in their pictures (which becomes questionable when you hire event staff through CL). Using an event staffing agency to staff your event ensures that your brand is represented by quality individuals who will adequately represent your brand.
Have you found success from hiring event staff through an agency? Share your stories with us! And, don't forget to check out our event services page for a list of the different types of event staff we hire.