Trade Show Marketing Friday: Trade Show Technology Must Haves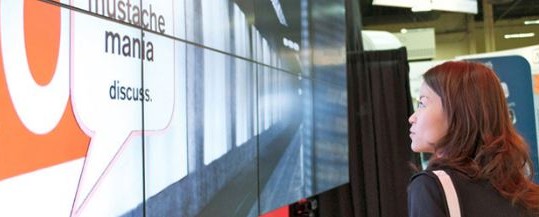 Trade Show Marketing Friday: Trade Show Technology Must Haves
Welcome back to our latest edition of Trade Show Marketing Friday! This week our focus will be on trade show technology. With so many options out there, it can be difficult to decide what trade show technology to use at your booth. So, this week we decided to highlight the best trade show technology for generating traffic and interest at your booth.
Trade Show Technology Must Haves!
Interactive Kiosks
Interactive kiosks are a great way to provide information to attendees and gather data. These kiosks can be used to provide product demonstrations, brand information, game, or as a way to have attendees fill out a simply survey. These kiosks are so versatile that the ways in which you can utilize them is truly endless!
Virtual Booth Hostesses
Virtual booth hostesses are an interesting way to attract attention to your booth and are very simple to use! Hire a trade show hostess to be filmed and recorded prior to the trade show. Then, project the recorded film onto a human cut-out. Because of their unique appeal, virtual trade show hostesses are sure to attract attendees to your booth and provide passersby's with accurate information. To learn more, be sure to check out our blog post on virtual booth hostesses.
Charging Stations
This might seem extreme, but many attendees are unable to charge their mobile devices when on the trade show floor. If your trade show does not offer a charging station to attendees, this can be a great addition to attract visitors to your booth. While they're charging their devices, attendees will be forced to spend a considerable amount of time at your booth. Hire trade show models to approach and interact with attendees at your charging station. Not only is this a great way to get your brand noticed, but it'll be sure to increase your trade show leads.
Plasma Screens
Another trade show technology idea is using plasma screens. Set up monitors surrounding your booth with a cool promo video, slideshows of pictures of your company, brand, product, or team, or product demonstrations. Whatever you choose to play, attendees are sure to stop by your booth to watch the screen.
Trade Show Technology Idea: If your booth is large enough, set up a video wall! This unique idea is guaranteed to be noticed by everyone on the trade show floor.
Social Media Mobile Apps
This may seem like a trade show technology no brainer, but utilizing social media aps is one of the best ways to interact with trade show attendees before, during, and after the show. Social media sites such as Facebook, Twitter and Instagram are great ways to advertise your booth during a show. Don't forget to use #hashtags at the trade show when making your posts!
Lead Retrieval Systems
What trade show technology list would be complete without lead retrieval systems? Not only do they help to gather attendee information, they also organize data and help your company generate solid leads. One example product is iCapture. This allows you to relay product information to clients through QR codes and track the visitors who collect information from your booth. To learn more about using iCapture at trade shows, be sure to check out their website.
That's it for this week's edition of Trade Show Marketing Friday! Have you used any of these technologies and found success?