Table Cloths & Table Throws: The Different Types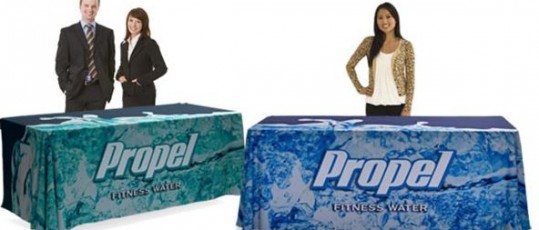 Table Cloths & Table Throws: The Different Types
Table throws are essential to your trade show booth display because they visually create a first impression of your company that will stick in the minds of attendees and attract attention to your booth. Not having a trade show table throw can make your trade show display look unfinished, giving attendees a poor impression of your company. The lack of a trade show table throw may even discourage attendees from stopping by your booth, no matter how appealing your booth models are.
But, perhaps the best aspect of a trade show table throw is that it comes in variety of shapes, colors, styles, and sizes; matching the needs of your trade show team.
What are the different types of trade show table throws?
1. Plain or solid colored table throw: Rectangular and round.
2. Custom printed table throw: This is a very popular type of trade show table throw as many exhibitors will add their company's name and logo to their trade show table throw.
3. Stretch or spandex table throw
4. Table Skirts
5. Table Runners
6. Disposable table throw: Ideal for promotional events where you are demonstrating a messy product.
7. Fireproof table throw
8. Stain proof table throw
No matter what your show display needs are, there is sure to be a trade show table throw that covers it!
What trade show table throw works best for you?