Trade Show Booth Design – Selecting an Exhibit Display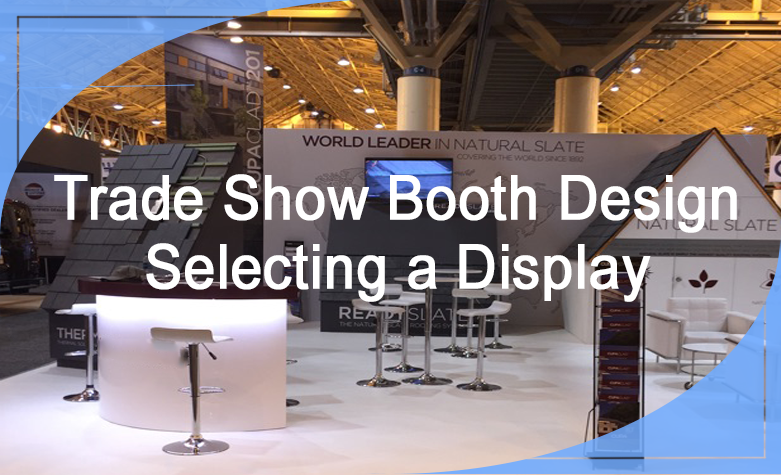 Trade Show Booth Design – Selecting a Display
If you're looking to modify your trade show booth design for an upcoming event it can be overwhelming. To get started, I recommend reading this short article by Classic Exhibits on Standard USA Booth Regulations and Types. This article gets very technical on the four basic booth types, but does not elaborate on how to improve each type of trade show booth design to help make them stand out. Below, I've highlighted key terms, differences, as well as basic pros and cons of each type of design to further expand on the article above. Review the information below to help determine the best trade show booth design for your business! Not what you're looking for? Check out our trade show booth design – resource guide for additional information on exhibits. Standard/Linear, or In-Line Booth DesignThe standard/linear is the smallest and most common trade show booth design. The dimensions are typically 10'L x 10' W x 8' H. These booths always share a back wall and at least one, but usually two, sides with surrounding booths. While standard booths may be small in size they can also be mighty in trade show reach. One way to increase your reach is by investing in high quality graphics and signage with images and text that are crisp, clean, and modern. They should be eye catching but not chaotic. With a brief glance, an attendee should be able to know who you are and your basic message. Standard booth designs are also ideal when your brand is trying to highlight a new product or service without overcrowding it.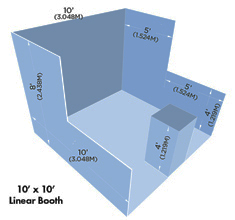 Finally, because of their size, standard booth displays typically have less stuff for attendees to look at, so be sure to staff it with knowledgeable high-energy promotional models to engage potential buyers as they pass by or enter the front of your trade show booth. Perimeter or Wall Booth Design Perimeter or wall booth displays are found around the outside edges of the exhibit area. They are typically still 10' L x 10' W, but what makes them special is that they can have a taller (12' H) back wall display and side walls. If you chose this trade show booth design make sure to capitalize on the extra wall space with a large graphic. It helps if your product or logo lends itself to a vertical image. Depending on the size of the trade show and the flow of traffic, you may need to do more to get attendees' attention away from the main floor. One way to do this is by hiring promotional models to wander the trade show floor and attract attendees to your booth. However, before committing to this marketing idea, double-check that event staff are allowed to wander the trade show floor. Some venues allow it, while others do not. If the venue you're exhibiting at does not this then consider hosting a social media campaign, contest, or trade show games to help attract attention to your booth. Peninsula Booth Design A peninsula booth gets its name because it has three open sides. It has a minimum size of 20' L x 20' W'. The maximum height of the booth depends on what is behind it. If the booth backs up to another peninsula booth (split-Island formation) it can be 20' across the back. If it backs up to a row of standard/linear the height must meet the aisle height restrictions. Peninsula booths can have hanging ceiling signs which are great for getting people to notice and navigate to your booth from across the trade show floor.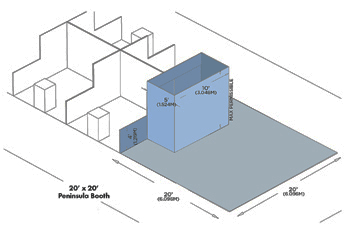 These booths allow for great creativity in the arrangement of your booth because it allows for large displays and/or multiple product demonstrations. They also have enough room for separate seating areas that can be used to mingle and meet with clients. Because of the large amount of booth space that peninsula booths provide, it is important that brands with this type of booth make the most out of the space.
Since peninsula booths allow attendees to approach from more angles, it is very important to hire enough promotional models to greet them, scan badges, answer questions, present your product and/or service, and generate trade show leads for your brand. If you haven't hired promotional staff in the past but are planning on using a peninsula booth for your next trade show, then now is a good time to get learn about the benefits of hiring promotional models.Island Displays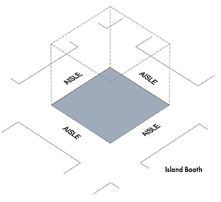 You guessed it! An island display is open on all sides to attendee traffic. They start at 20' L x 20' W and can be 20' H, or have a hanging ceiling sign. These booths are designed to be the center of attention and because of their size they tend to attract the most attendees! Island booths can look like anything and depending on their size can fit almost anything. In order to ensure you make the most out of your island display, it should have a lot of displays, demonstrations, and promotional staff to interact with. With all that space the last thing you want is for it to seem empty, but, at the same time, make sure that everything has a purpose to help you meet your business objectives. The Real Costs of Trade Show Booth Displays
*Average Cost
*Average Cost
*Average Cost
*Average Cost
Now that we've had a chance to outline and explain each of the 4 most popular trade show booth displays, it's time to talk about costs. Trade show booth display costs can add up quickly, so be sure your brand has a thorough understanding of the goals and objectives it's trying to achieve before purchasing a trade show booth exhibit. Once you have decided on the design and style of your trade show booth, be sure to look closely at the final costs and expenses. If it does not fit within your budget take a step back and decide if there are any extras or bonus features that your brand can do without or if your brand can downsize. Final Thoughts on Trade Show Booth Design When picking a trade show booth design try to work backwards from what your business goal is and what elements are necessary to reach that goal and then find a booth design that has those elements. A big booth isn't always better, especially if it doesn't help your overall objectives.