Trade Show Exhibitor Tips – Trade Show Checklist & Exhibitor Checklist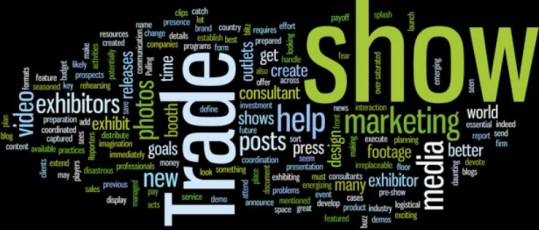 Trade Show Exhibitor Tips – Trade Show Checklist & Exhibitor Checklist
Preparing for a trade show is a large undertaking, especially for exhibitors that are planning their first trade show. Staying organized and implementing a trade show checklist will help your team succeed in both lead generation and sales. Below, we have provided an exhibitor checklist to help you and your team prepare for your next trade show.
Trade Show Checklist & Exhibitor Checklist for Trade Shows
Research Trade Shows –
Find trade shows in your industry whose attendees match your target market. Try this trade show calendar to get started.
Determine Goals –
Decide what your team's goals and objectives are for the trade show. Make sure they align with the goals of your company. Make sure your team members understand all of your trade show goals.
Fill Out Application Forms –
Complete and submit any applications necessary to exhibit at the trade show. These forms can be found on many event websites. If not, call the trade show organizers and determine which forms are necessary to exhibit.
Submit Deposits –
Confirm you have paid all necessary fees before the trade show.
Select Booth Location –
Plan ahead and select your booth location early. Booth location is an important factor for booth traffic. Be sure to select a location that provides a constant flow of attendees.
Organize Trade Show Materials –
Determine what trade show supplies the organizers provide, and what additional items or services you will need. For example: cable, electricity, carpet, furniture, promotional items, lead retrievals, signage… etc.
Track Shipments –
Track shipments and verify the arrival of your booth materials. It is important to stay on top of this as missing or late shipments can prove disastrous to your trade show.
Design Your Trade Show Booth –
Design a trade show booth that attracts attendee attention and communicates the right first impression.
Select Booth Staff –
Bring team members that will create the ideal atmosphere at your booth. Hire trade show booth staff for additional assistance at your booth.
Assign Team Roles –
Be sure that each trade show team member is aware of his or her role during the trade show. Be sure to clarify and answer any questions he or she may have beforehand.
Define Trade Show Attire –
Explain to your trade show staff what trade show attire they will be wearing and emphasize the importance of adhering to the attire.
Start Communicating –
Connect with your target market, clients and audience months or weeks before the trade show. Begin building relationships and encourage them to visit your booth at the show.
Check Your Travel Plans –
Make sure your tickets have been purchased and your team knows their travel schedule. Allow time for delayed transportation and time to organize your trade show booth before the show begins.
Determine Post-Event Plans –
Organize and prepare your office for your return. Make sure your team is aware of what is expected of them after the trade show.
Prepare for Complications –
Not everything will run smoothly. Try your best to keep everything organized. When an unexpected situation arises, keep it in perspective and stay focused on your goals.
Do you have more trade show tips to add to this trade show checklist & exhibitor checklist? List them below!