Las Vegas Car Show Girls: Hiring Car Show Girls for SEMA 2015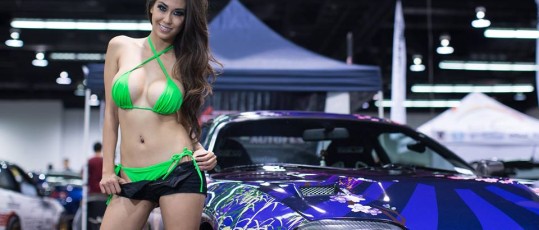 If you've ever attended a car show there are two guarantees: cars and car show girls. But, why are car show girls so popular? What benefits do they provide for exhibitors? With SEMA  2015 preparations only a few months away, we decided to focus this blog post on the top 3 ways Las Vegas car show girls can benefit exhibitors at SEMA in 2015.
3 Reasons to Hire Las Vegas Car Show Girls for SEMA 2015
1. LAS VEGAS CAR SHOW GIRLS ATTRACT ATTENDEES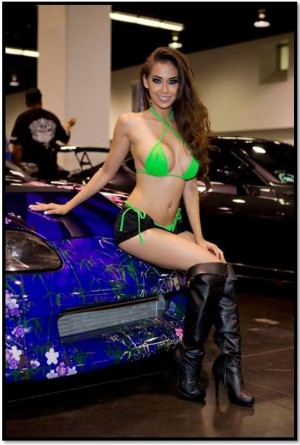 Of SEMA's 60,000 attendees, the majority are men in executive management that are interested in learning about the latest automobile trends and making purchases. This is not to say that women do not attend SEMA. Such a claim would make NASCAR's Danica Patrick (Top draw at SEMA 2012) very upset. However, because SEMA consists of mostly male attendees, hiring Las Vegas car show models is a great way to attract men's eyes to your booth as well as your new car. Think about it, what male car show attendee isn't interested in attractive women standing next to attractive cars?
2. LAS VEGAS CAR SHOW GIRLS ARE KNOWLEDGEABLE
While the physical appeal of these car show models will draw attendees to your booth, their professionalism and knowledge of cars will keep attendees talking. Long gone are the days when car show girls were hired to simply stand and look pretty. Instead, when you hire Las Vegas car show girls for SEMA 2015 you can expect these young women to know as much about the cars they are promoting, as any of the sales representatives on your team. Their expert knowledge and physical beauty will keep attendees relaxed and happy until a sales representative can take over.
3. LAS VEGAS CAR SHOW GIRLS NEED LITTLE TRAINING
Because SEMA is a reoccurring car show in Las Vegas, many car show models have worked it in the past.  They already know what to expect and how to best attract and approach attendees. With little training necessary, Las Vegas car show girls will begin generating quality leads the minute they hit the trade show floor.
Where Can You Hire Las Vegas Car Show Girls?
To book a car show model for SEMA 2015 start by searching our Las Vegas trade show models. Once you find the right car show girl for your booth, contact us to begin your booking process! As you can see, car show models are beautiful women who are specifically trained to communicate with your target audience, discuss your product, and demonstrate its value in a way that no other sales associate can. So, when car shows such as SEMA and the LA Auto Show, are seeing record numbers, don't you think it's time you let a beautiful car show girl take the wheel to navigate your company to bigger, better leads? For more information on attending or exhibiting at SEMA view their website.