Hiring Promotional Hostesses for Black Friday- 5 Characteristics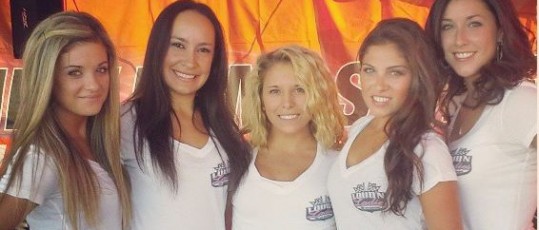 Hiring Promotional Hostesses for Black Friday- 5 Characteristics to Consider
One of the biggest and BEST shopping days of the year is almost here:  Black Friday!! For those of you that are shaking your heads and yelling "Cyber Monday!" read the post title, will ya!?
Each year, Black Friday marks the start of the holiday shopping season and attracts thousands of shoppers to wake up early and fight to find the best holiday marketing promotions. If your brand isn't noticed by these hungry shoppers- you're missing out on some serious sales.
How can you brand stand out? By hiring promotional hostesses for Black Friday that have characteristics that will make your brand stand out among your competition, that's how!  To help you find the best promotional models for your Black Friday promotion, we've listed some promotional talent guidelines below.
Characteristics Every Promo Model Should Have For Black Friday Promotions
1. Extensive Customer Service Background –
Being experienced in customer service is one of the most important factors on this huge sale day. Having patience and giving customers the attention they need will reassure them of their decision and develop a positive relationship with them. Do not hire promotional hostesses for your Black Friday promotion if they do not have extensive customer service experience.
2. Flexible Hours –
Each year it seems as though Black Friday's hours continue to grow. Very early and very late hours are not uncommon, so make sure the promotional models you hire for your Black Friday promotion are available to work strange and long hours.
3. Stamina & Patience –
In order for a Black Friday promotion to be successful- it requires promotional hostesses that have the stamina to stand for long periods of time and the patience to deal with shoppers of all different types and personalities.
4. Knowledgeable –
On Black Friday, it is important that the promotional hostesses you hire be exceptionally well-informed about your brand and product. Companies have a small time frame to keep the attention of your customer and sell your brand. In these instances, you want the promo staff to be able to answer questions quickly and deal with any issues there are in a smart, helpful way.
5. Attractive Physical Appearance and Unique Personality – 
Shoppers will be hustling and bustling around stores on Black Friday so the promotional models hired for your Black Friday promo should be able to attract a steady flow of shoppers to your brand. Hiring promotional staff whose personality and/or appearance stands out will grab the attention of busy shoppers' and make your promotion different from others.
Black Friday is an amazing opportunity for many businesses to market their brand and increase their holiday sales. Make sure to hire the right promo model for your Black Friday holiday promotion so you don't get left behind!
Check out our blog post to learn more about how promotional staff will make your holiday marketing promotions stand out!
What other holiday promotions are you running this year?