International Dairy Deli Bakery Association 2017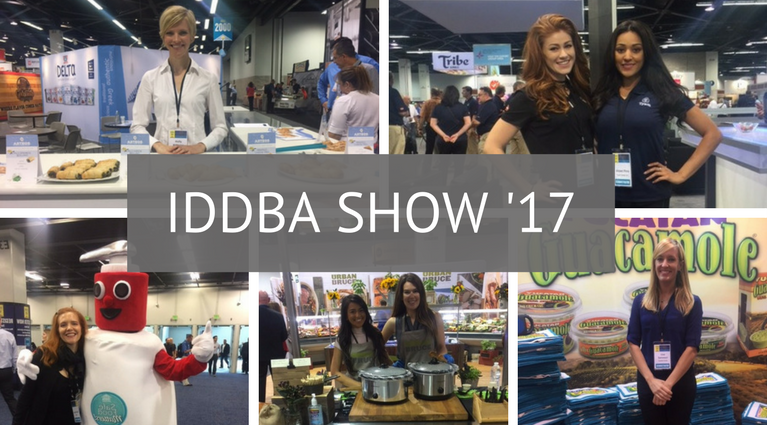 Vantage Booth Staffing at IDDBA '17
For the second year in a row, Vantage Advertising had the privilege of working with the International Dairy Deli Bakery Association as their preferred booth staffing vendor.  As the certified staffing vendor for IDDBA 2017, Vantage had the opportunity to provide brand ambassadors, booth hostesses and product demonstrators to over 25 exhibitors.  To ensure the success of each exhibitor, Vantage provided the IDDBA with on-site management for its entire team of talent.  Backup talent was on hand for exhibitors that hired staffing through Vantage but was not needed.  If you are unfamiliar with the IDDBA, the association brings together top leaders and innovators in the dairy, deli and bakery industry to allow them to network, build relationships, and grow their brands. This year's trade show attracted close to 10,000 attendees and featured more than 1,900 exhibits.
Burrito Kitchen, Bruce Pac, Real California Dairy, Fountain of Health, Ticklebelly, Yucatan Guacamole, Gordo's Cheese Dip, Bombolo Biscotti, Epoca, Deliziosi and DI Manufacturing were just a few of the many companies Vantage Adverting provided staffing for at this year's show.
What can you expect when hiring booth talent through Vantage Advertising? You can expect booth professionals that will be able to; assist you in attracting attendees to your booth, answer general product questions and promote your brand.  To hire professional booth hostesses in the Los Angeles area, please visit www.models4tradeshows.com.
IDDBA 2017 Event Photos
Video from IDDBA 2017
Beautiful Vantage Advertising model Katie Norman at the California Milk Advisory Board booth at the IDDBA 2017!