50 Ways to Generate More Trade Show Leads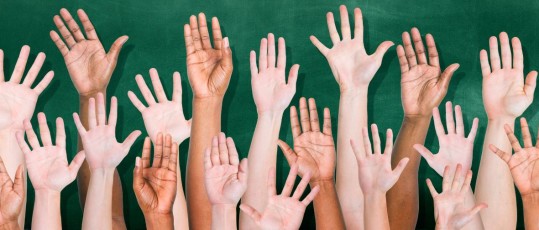 50 Ways to Generate More Trade Show Leads
With so much competition at trade shows, expos, conferences, and promotional events, it is easy to get lost in the crowd. But, what's the point of exhibiting at a trade show or expo if your brand isn't getting noticed and your team isn't generating trade show leads?
To help you and your team fight back, we've compiled a list of 50, yes 50, ways to help your team generate trade show leads and attract attention to your booth! In order to help you stay organized and to get the creative juices flowing, we've divided this blog into two sections. Tips for  generating trade show leads and attracting attention before the trade show event and during it.
Generating More Trade Show Leads and Attracting Attention: Pre-Event Preparations
1. Exhibit at trade shows that your target audience is attending
2. Share your trade show schedule with your social media followers
3. Get involved in the pre-show social media conversation by using the official social media event hashtag
4. Send an email or postcard to your clients informing them that you'll be exhibiting at the show
5. Research attendees and seek them out at the show
6. Become a trade show sponsor
7. Run a banner ad on the event website
8. Select a central booth location
9. Design a trade show booth that is warm and inviting to attendees
10. Design a trade show booth that accurately and boldly displays your company's message
11. Design a trade show booth that is visibly appealing
Generating More Trade Show Leads: During the Event
12. Incorporate all of the 5 senses into your trade show booth
13. Bring team members that actually want to be there
14. Hire experienced trade show models to create an inviting atmosphere at your booth
15. Hire promotional models and booth hostesses with an appealing accent
16. Hire a bilingual model or sign language interpreter so everyone can follow along
17. Hire a costume character
18. Hire a celebrity look-a-like
19. Run internal booth contests that encourage your team to stay focused and keep your event staff energized
20. Run booth contests & advertise them on social media
21. Run social media contests
22. Use the event hashtag to share your event photos and videos on social media
23. Include your booth number in your social media event posts
24. Host and run interactive trade show games
25. Rent a photo booth, video booth, or social media kiosk
26. Host a special event, like a book signing or a "Meet the Engineer" type event
27. Host a product demonstration
28. Host a trade show presentation
29. Giveaway educational material such as a free eBook
30. Giveaway product samples
31. Give away promotional items. (Make sure it's something memorable or useful)
32. Offer candy or chocolate refreshments at your trade show booth
33. Offer drink refreshments
34. Offer to be on the speaker's panel
35. Clothe your trade show team in branded attire
36. Encourage your trade show staff to mingle with the crowd as they walk around the show
37. Organize a flash mob
38. Release a new product
39. Offer a show discount or coupon to attendees
40. Incorporate interactive touchscreen displays with product information
41. Make your booth interactive with games, fun art projects, or Q&As
42. Incorporate puppies and other cute animals into your booth (when appropriate)
43. Hire a street team to hand out flyers and information packets about your brand
44. Hire a massage therapist
45. Offer to speak at the show
46. Giveaway a grand prize at the end of the show
47. Exchange trade show leads with other vendors (this will help to double your leads!)
48. Practice and perfect your elevator pitch
49. Have a conversation with attendees and get to know them. Don't just sell.
50. Understand who your target audience is and give them what they want
So, there you have it! 50 amazing ways to increase your lead generation and increase your trade show booth traffic! What other marketing methods do you use to help increase your trade show numbers?